Vintner's Daughter Just Released Its Second-Ever Product — & It's Really Good
Vintner's Daughter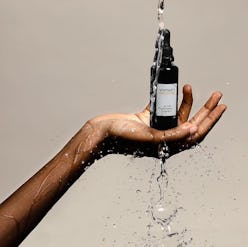 It was 2014 when Vintner's Daughter took over the luxury skincare space with its Active Botanical Serum. If you're at all interested in skincare, you've at least heard about it, and at most own multiples (no shame). The product, made up of 22 pure, plant-based ingredients, quickly rose to cult-favorite fame — and never lost steam. The brand spent nearly half a decade focused on its single stand-out serum; and fans have been waiting with bated breath to see what Vintner's Daughter will whip up next. Well, the wait is over: Vintner's Daughter Active Treatment Essence, its second-ever product, is finally here… and might be better than the original.
On Feb. 25, the luxury naturals brand launches what founder April Gargiulo calls "the yin to Active Botanical Serum's yang." Active Treatment Essence, a corrective hydration step meant to be used after cleansing and before serum, features a veritable feast of skin-healthy ingredients that could theoretically replace your entire skincare routine. "This formula delivers optimal nutrition, micro-exfoliation, brightening, firming, strengthening, and multi-level hydration to noticeably improve the overall appearance of skin," Gargiulo tells The Zoe Report. I mean, what else could you ask for?
The backbone of the essence is Vintner's Daughter's signature "Phyto Radiance Infusion," a blend of 13 nutritious botanicals (like moringa, nettles, and marshmallow root) that have been put through a fermentation process to boost absorption. "Elevating the formula even further are advancements in natural science; including vitamin C, micro and mini hyaluronic acid, probiotics, plant stem cells, marine microalgae, and micro-exfoliating acids and enzymes," Gargiulo says. "Together, these elements deliver powerful hydration, optimal nutrition, and daily repair and protection for your skin."
As an essence, it relies on hyaluronic acid (a humectant) to deliver moisture deep into the pores. "Hyaluronic acid carries 1,000 times its weight in water," Dr. Aanand Geria, a dermatologist at Geria Dermatology in New Jersey, tells The Zoe Report. It then binds water to skin cells like a sponge, making them more receptive to other active ingredients — and boy, does the Active Treatment Essence have a lot of them.
Dr. Geria notes that vitamin C is a brightening agent that lifts hyperpigmentation and gives skin an overall glow. "It's also required for collagen production, making it a wrinkle fighter as well," he tells TZR. "Stem cells are rich in antioxidants, which should help mitigate the effects of sun damage and pollution on the skin," he adds. Even though exfoliating acids and enzymes, which help slough away dead cells to reveal the fresh, radiant skin below, can be harsh, Active Treatment Essence mitigates that risk with a dose of fatty-rich algae. "Minerals such as phosphorus, magnesium, copper, calcium are also found in algae, which function along with amino acids to improve skin barrier repair and regeneration," he adds.
Finally, the probiotics inside support the skin's natural function by providing healthy bacteria. "Supplying our skin with probiotics can particularly soothe conditions such as rosacea, psoriasis, eczema, and acne," Dr. Neil Sadick of Sadick Dermatology in NYC tells TZR. "Moreover, the metabolism of these organisms leads to the production of hyaluronic acid, peptides, and vitamins that support hydration and skin elasticity." In other words, the Active Treatment Essence not only delivers some major benefits, it also helps your skin produce more of the good stuff on its own.
"Active Treatment Essence and Active Botanical Serum were made to be used in lockstep with one another," Gargiulo says. "When used together, they form the bedrock foundation of your most radiant, balanced, and healthy skin." In fact, the two products are pretty much all the founder uses these days (and trust me, she has seriously radiant skin). "I don't have the time for an extensive regimen," she tells TZR. "Morning and night, after cleansing, I apply Active Treatment Essence and then Active Botanical Serum — I know my skin is receiving everything it needs to be its most healthy and balanced." In the morning, she follows with SPF... and that's it.
Like Active Botanical Serum, Vintner's Daughter's new product is not exactly cheap at $225 — but if the extreme popularity of the brand's original $185 offering has proved anything, it's that people are willing to part with a little bit of cash for a product that truly works. Surely, that factors into why Gargiulo is in no rush to expand the brand's catalogue.
"We are committed to only producing category-defining skincare that delivers unprecedented, multi-correctional results to all skin types and concerns, safely," she tells TZR. "In creating Active Treatment Essence, we doubled down on these principles not to reach some kind of 'cult status,' but to create a product that delivers superior performance and lasting results, because that is what we believe people deserve."