This New Essie Collection Is An Easy Way To Try The Rainbow Nail Trend (But With An Unexpected Twist)
essie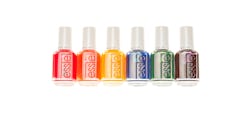 When it comes to nail polishes — much like fashion trends — there are always the main classics. For every fashion lover's little black dress, there's a minimalist nude or a timeless red to go with it. However, it seems as though maximalist trends have been popping up in both the fashion and beauty scenes. From the summer-appropriate tie-dye pieces to rainbow nails, it's safe to say that the overall mood of this season can be summed up in one word: color. And with Essie's Glazed Days collection, your vibrant nails just got bolder.
Perhaps you came across the rainbow nail trend earlier this year when beauty lovers everywhere began sporting multicolored nails reminiscent of your childhood days. Fast-forward a little further, and the colorful nail trend is practically everywhere, channeling the colors of the rainbow or a monochromatic iteration of the look.
If you're looking to up the ante on your nails this summer — whether it's by sporting this Instagram-worthy trend or opting for a more eye-catching hue — the Glazed Days collection from Essie will be just what you need. This limited-edition launch features six vivid shades with a translucent glaze finish. Each of these polishes costs $9 and takes on a color of the classic ROYGBIV rainbow. Inspired by sweet candy confections, there's no doubt these colors will be the perfect accents to all your summer looks.
There's no question that these colors are daring, but if you're looking to make a statement, you can't go wrong with But First, Candy. This green apple shade will be an unexpected color on anyone's fingertips — plus, it takes on one of the biggest color trends of the season: slime. However, if you've always had a taste for blue raspberry-flavored treats, you'll love wearing Ooh La Lolly all summer long.
Want something that'll pop with everything you wear? The fiery orange Confection Affection is destined to brighten anyone's day with a few swipes of the brush. Alternately, you could also don Sweet Supply, a bright lemon yellow.
For those who prefer the (slightly) more understated nail polish color, wear Sweet Not Sour. You can wear the strong purple hue, or the classic cherry red Glazed Days, for any occasion throughout summer — there's no going wrong here.
Scroll down to shop the Glazed Days collection below.