EmRata Just Dropped A Lingerie & Loungewear Collection — Here's What We're Buying
Gabe Ginsberg/Getty Images Entertainment/Getty Images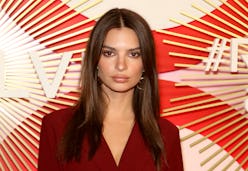 It's always exciting when an unexpected collection drops. That's why the fashion-obsessed were sent into a complete frenzy on Wed. when it was announced that Emily Ratajkowski's Inamorata Body line, a range of pretty, elevated lingerie and comfort staples, was officially available to shop — and just in time for Valentine's Day, too. Get your credit cards out, because you're going to want to buy just about every piece for yourself. And you better act fast — many items are already showing an "out of stock" alert.
Back in 2017, EmRata launched her brand, Inamorata, with a line of incredibly unique, eye-catching bikinis and one-pieces that sold out in the blink of an eye. As of Feb. 6, the model's label has officially forayed into the world of lingerie and loungewear with an expanded category that's been dubbed "Body" — a collection of dresses, bike shorts, bras, and more that are equal parts comfortable and trend-forward.
EmRata took to Instagram to share the exciting announcement with her 21.6 million followers, posting a series of photos of herself in some of the line's new pieces. "A little over a year of @inamoratawoman, and I'm so thrilled to finally share what I've been working on for you guys. Introducing BODY, a category that is so much more than lingerie. I hope you guys love it as much as I do." she captioned the images.
The Body line has something for everybody, with sizing that ranges from extra small to extra large. What makes this particular collection of elevated comfort pieces all the more intriguing, however, is their versatility — they can be worn in the comfort of your own home just as easily as they can be worked into day-to-day outfits. Now that's loungewear everyone should invest in.
Some standout items include a pair of cotton bike shorts that would look so cool with a chunky knit and lugged-soled sneakers and a bold, slime green bodysuit you won't be able to say no to. Shop these, plus more of The Zoe Report's favorites, below.
Shop The Collection