These Knitwear Sets Were Basically Made For All Your Holiday-Season Lounging
Zara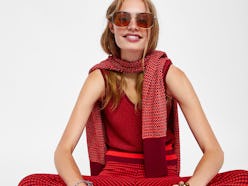 Whether you're living in denial about the inevitable change in seasons, or you've been prepping with eager anticipation since the beginning of fall, there's one thing that's for sure: Winter is coming. During the time of year where the temperatures, depending on where you live, range from chilly to frigid, nothing sounds more enticing than pulling on your most comfortable clothes and lounging around the house. Of course, your sense of style doesn't pause the moment you step through your front door, and if you're looking to upgrade your most lived-in sweats to something more polished this season, an affordable matching loungewear set will do just the trick.
To put it simply, there's just something about wearing a cozy matching set that can get anyone excited for the nights in. From curling up with a good book to binge-watching the latest show on Netflix with your significant other, the sole act of donning coordinated pieces can make even the most mundane or casual moments of the season feel like an occasion in a matter of minutes.
If you're the type of woman who likes to feel put-together at all hours of the day, try wearing this $29.90 Two-Toned Top and matching $49.90 Two-Toned Pants from Zara. Between the vibrant colors and the chic shape, you'll feel ready for any sort of activity, whether it's a quiet morning with a cup of coffee in hand or running errands in the afternoon.
Of course, when it comes to shopping for winter loungewear pieces, comfort is key. In the chance that you prefer to spend your winter days inside in complete and utter comfort, opt for this chic Wild Honey Cable Knit Sweater, $67, and the coordinated Cable Knit Pants, $72, which will have you ready for all the moments worth bundling up for, including those cheerful holiday mornings spent with your family.
For the minimalists at heart, there's nothing like this cool Cocoon Ribbed-Jersey Top and Tapered Jersey Trousers from COS. With the clean design and timeless gray hue, they'll feel as though you spent a fortune on them, despite the fact that they cost $59 and $49, respectively. If you happen to live in a warmer climate, this Tna Alder Thermal and the matching Waffle Jogger will be the perfect set to throw on when you want to have a that extra coverage, without feeling like you're going to overheat.
During this holiday season, in the comfort of your home and surrounded by your favorite people, a chic knit set is the perfect way to elevate your at-home style for the colder weather. And when they're at an affordable price, you can save your money to use it toward those holiday presents. Keep scrolling to see some of the coolest knitwear sets to wear all season long.
We only include products that have been independently selected by The Zoe Report's editorial team. However, we may receive a portion of sales if you purchase a product through a link in this article.