How To Dress Up All-Black Separates The Emilia Clarke Way
Frazer Harrison/Getty Images Entertainment/Getty Images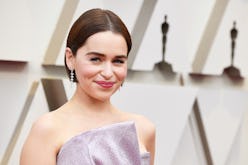 You're about to see a whole lot of Emilia Clarke, because press for the new season of Game of Thrones has officially begun. The actor set a perfect example of how to elevate an all-black look as she arrived to the set of The Late Show with Stephen Colbert on Tues. The key to Emilia Clarke's monochromatic outfit was a houndstooth blazer.
Tues. was the start of what you can expect to be a very jam-packed press tour for the actors of HBO's cult-classic show. There will be plenty of noteworthy outfits to come from Sophie Turner and the rest of the cast, but let's just go ahead and start the conversation with what Emilia Clarke sported to The Late Show.
Before changing into a colorful mini for the show, she arrived on set in an all-black ensemble that anyone could get behind. The look consisted of a loose black turtleneck tucked into high-waisted skinny jeans. She threw a Gucci belt around the waist and wore the hem of her pants over her sleek black booties.
Clarke had a genius idea for layering, too. The actor draped a long, menswear-like houndstooth blazer over her shoulders to break up her head-to-toe black.
Black-on-black is an age-old concept that you've probably been relying on a lot this past winter. If that's the case, then go ahead and embrace it awhile longer, but consider switching up the classic formula with a trendy blazer like Clarke's.
Houndstooth used to be synonymous with old-man clothes — let's be honest — but it's in the midst of a big comeback. Even Kaia Gerber, who has perhaps the edgiest street-style look of them all, has been wearing the throwback pattern lately.
If you saw the looks from Chanel's Paris Fashion Week show, you would have noticed houndstooth all over the place. Needless to say, the old-school print is in again and incorporating it into your all-black outfits like Emilia Clarke just did is the easiest way to wear it.
Recreate the outfit with similar blazers, ahead.
Shop The Look