Ellie Goulding's Wedding Dress Took More Than 640 Hours To Make & You Can See Why
NEIL HALL/EPA-EFE/Shutterstock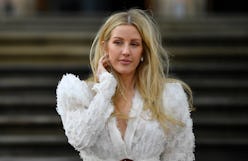 You've watched more brides than you can count walk down the aisle this summer, but none have worn a more stylish wedding dress than Ellie Goulding. The singer married Caspar Jopling over the weekend and her custom Chloé gown alone was worthy of its own museum.
The 32-year-old was a sea of windswept white as she stepped out of a vintage blue Volkswagen bus at York Minster on Sat. That majestic moment when the breeze caught her veil in mid-air was like a gift from the wedding gods. Somehow, she managed to make it into the world-famous cathedral with her updo unscathed.
A year after getting engaged to the art dealer, Goulding said her vows under the medieval vaulted ceilings and stained-glass windows of York Minster in North Yorkshire, England, where the groom was born. Her bespoke Chloé gown will surely go down as the wedding dress of the year, and having taken 640 hours to make, it should.
Creative director Natacha Ramsay-Levi was the brain behind Goulding's beaded masterpiece. The dress was long-sleeved with the slightest little structured puff on the shoulder and featured the most darling ruffled lace collar you've ever seen.
But the Victorian-style design wasn't just nice to look at; it was incredibly meaningful, too.
The bodice of Goulding's silk double crêpe dress and her radzimir petticoat were adorned with hand-stitched White Roses of York — representing the couple's wedding venue, according to Harper's Bazaar — and her sweeping tulle veil was embroidered with each of their initials, too.
It reportedly took more than 640 hours for the French fashion house to make the gown, not including the creation of the veil, which took an additional 591 hours. Casual.
Goulding told Just Jared that choosing Ramsay-Levi as her dress designer was a no-brainer. "I have loved the brand and their incredible team for years, so it only seemed right for Chloé to play big part of this special day," the bride said. "Natacha worked alongside me to design something timeless and classic, but with all the Chloé spirit."
After exchanging vows, the singer changed into a second dress that was reminiscent of another recent wedding (hint: one of the royal variety). Goulding wore an off-the-shoulder silk cady column gown by Stella McCartney to the reception at Castle Howard. It was similar enough to the wedding dress Meghan Markle famously wore that side-by-side comparisons have surfaced all over the internet.
The modern, minimalistic design of her reception gown was a stark contrast to the vintage-inspired aesthetic of the first.
Celebrities like Katy Perry and Orlando Bloom, Sienna Miller, Princess Eugenie, and Princess Beatrice were in attendance, so it's safe to say Goulding and Jopling's big day is a serious contender for wedding of the year.