5 Affordable Wedding Dress Brands Everyone Bride Will Be Wearing This Season
@reformation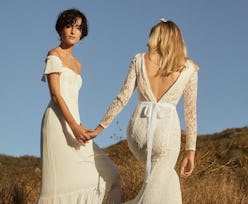 For some brides, the perfect wedding dress is something they've envisioned since childhood. For others, finding "the one" is a process that comes together just before the big day. Either way, many future brides begin their search, only to get stuck trying to stay on a budget. If you've ever watched Say Yes To The Dress, you know how easy it is to get swept up in the moment trying on your dream designs. Walking away with an affordable wedding dress (say, something under $2,000) that actually looks elevated hasn't always been easy. But increasingly, more affordable brands are breaking into the space and offering options that still feel elevated and special.
Some brands, like newcomer Lein Studio, have entered the space with the intention of creating styles women can wear beyond their wedding day. Others like Reformation, have pivoted their success in the wedding guest and bridesmaid categories into successful bridal-wear. The shakeups within the industry not only speak to a growing demand for a wider range of bridal options, but also to a more diverse customer base looking for styles that are unique but still budget friendly. Scroll on for a few affordable designers, learn how they are shaking up the bridal industry, and shop their modern frocks that won't break the bank.
Lein Studio
New York-based Lein Studio has gained a cult following for its not-your-average bridal designs. Though some styles climb above the $2000 mark, there are plenty of beautiful and unique styles that hit below. For the bride that's looking for something other than a traditional ball gown, consider this a must try.
Reformation
You may recognize this L.A. cult brand since it's a go-to for wedding guests and bridesmaids. But Reformation's retro-bohemian designs go beyond the invite list. The brand's bridal line includes a range of styles ranging from romantic ruffles and lace to more contemporary silhouettes. Many of the bridal designs tie back to the ever-popular silhouettes that the brand has mastered in ready to wear. Not only do these dresses look chic, but they will keep you comfortable for the entirety of your wedding night.
BHLDN
BHLDN is the brand for the whimsical and bohemian bride; it is the sister line to Anthroplogie, after all. BHLDN has prioritized affordability while still working to create the dreamy dresses many women have saved to their Pinterest boards. "This was a space that we always embraced, even in our early conception in 2011," says Jess Neil, the design director of BHLDN. "One of the core things is that a bride will always put budget first when pursuing her gown, and we really love that. We know it's getting to be a part of a bride's journey so early on. That was something that wanted to be reflected in our assortment and make it accessible to every bride." While BHLDN offers their own in-house designs, you can also find budget-friendly pieces from a number of other brands as well.
ASOS
This fast-fashion British retailer launched its wedding dress collection in 2015 and has been making ultra-affordable bridal pieces ever since. As part of its Edition brand that produces occasion-wear, ASOS's wedding dresses are inspired by iconic brides like Meghan Markle and Carolyn Bessette-Kennedy. And since nothing tops $500, brides on a tight budget will be able to find some budget-friendly that still fits their sense of style.
Torrid
Finding a wedding dress at an affordable price point can be especially difficult for plus-size women, as many less expensive options have a limited size range. With sizes up to 30, Torrid offers options with both classic and romantic elements — including bridal jumpsuits if that's your thing. Prices are all under $200 as well, making it an especially budget-friendly option.