The Luxe French Face Cream Elizabeth Olsen Never Travels Without
Matt Winkelmeyer/Getty Images Entertainment/Getty Images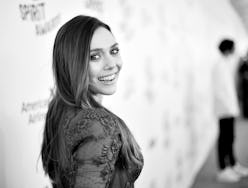 When your job involves flying around the world to portray superheroes on the big screen for blockbuster hits like Avengers: Infinity War, it's important to assemble a lineup of top-notch skincare products with their own set of superpowers. So, it's not entirely shocking that Elizabeth Olsen's travel skincare routine includes an army of potent formulas that keep the actor's complexion ready for its close-up.
"I start by cleaning everything around me," the self-proclaimed skincare enthusiast told The Zoe Report at the relaunch of the Delta SkyMiles American Express Card in New York City. "The seats — I wipe them all down, I sterilize my hands, and I re-moisturize my face," she explained of her pre-flight ritual.
The 30-year-old is quick to admit she has big sisters Ashley and Mary-Kate to thank for her most treasured beauty secrets, specifically her devotion to French luxury skincare brand, Biologique Recherche. The twins have sung praises of the brand before, thanks to its highly potent, plant-based ingredients. "I'm obsessed with their Creme Masque Vernix, which you can leave on during a long flight," Olsen explained. "It's moisturizing, it's protective, it's tightening. It's all the things you want it to be."
The Ingrid Goes West star isn't shy about the fact that she's willing to drop dollars for quality skincare — considering splurges on her skin to be a sound preventative measure. "I don't want to mess with my face. I want to age gracefully, so to me, it's like an investment in the future." However, Olsen isn't above a good drugstore steal, either. "Face wipes!" she proclaimed. "By Neutrogena or Simple. I feel like those are things that everyone should have, especially with traveling." A relatable, high-low queen. You love to see it.
In terms of makeup, Olsen is all about convenience. "There's this Bobbi Brown cheek tint that I love. It's not dry, not too shiny, and I like putting it everywhere." When probed about her upcoming wedding, the newly engaged actor admitted she strives to be a low-key bride, even in terms of her approach to beauty on her big day. "It's a celebration of the life you have and the life you want to create. And with mine, I'm going to try to have it be as mellow as possible. Everything's going to be nice and calm and simple and easy."
Speaking of lifelong partnerships — to Olsen, the most important part of an effective skincare regimen is truly committing. "My night routine and morning routine probably take — depending on if I do a mask — 20 to 30 minutes every day. I schedule it in." She's obviously learned from the best, but Olsen admits she's fallen for a beauty myth from time to time. "I feel like someone said Colgate toothpaste dries out zits once, and I don't know if it does, but I definitely don't do that. " For the record, it doesn't — but who hasn't tried this at least once?
Below, you can shop the products Olsen always keeps in her carry-on bag, but before you do, glean one genius hack for beating the 3.4 ounce rule like a pro. "When I work with hair and makeup people, they give me little tubes of lip gloss, and I clean those out and put my moisturizers in them before a red eye." You're welcome.