These Are The Most Popular Biologique Recherche Products From Rescue Spa
Courtesy of Rescue Spa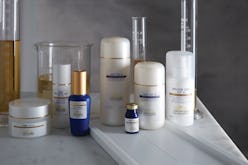 When it comes to your skin, you want to be using products that you can trust to keep it healthy and happy. That means choosing skin care that's backed with clinical research and time-tested results. And if you're still looking for your holy grail skin essentials, look no further than the best-selling Biologique Recherche products at Rescue Spa. Considering the cult status of these products, you'll want to get your hands on the top sellers ASAP.
The France-born skincare brand is known for providing top of the line products that are developed to be as pure, concentrated, and natural as possible. According to Biologique Recherche's site, the brand prefers to approach skin care holistically, bringing that practice into its products.
The brand is also known for being a bit elusive – only a handful of spas in the United States carry Biologique Recherche products, and even less sell the brand online. So, where should you turn to snag these French must-haves? New York City's Rescue Spa, founded by Danuta Mieloch, an esthetician who was actually trained by Biologique Recherche's own Dr. Yvan Allouche. Thanks to the five-star spa she's built into one-stop destination for luxe beauty brands, you can shop the line's most popular products directly on the Rescue Spa site for the best of French-girl beauty at home.
Among the top sellers are exfoliating lotions, cleansers, masks, and serums, but none are likely to be as well-known as the brand's Lotion P50. The product has developed a glowing reputation for being like a facial in a bottle that often delivers overnight results. Over 700 Rescue Spa reviewers have rated it five stars, saying the product has changed their skin forever.
The potent chemical treatment includes lactic acid and salicylic acid – as well as onion extract, among other natural ingredients – to rid the skin of dead skin cells and reveal a supple, bright complexion. For an even stronger formula, grab the brand's Lotion P50 Original "1970", which is the original (super-potent) version.
It's not just the cult-favorite lotions that are at the top of Rescue Spa's Biologique Recherche best sellers list, though – included in the popular products are the brand's well-loved cleansers, too.
The Lait VIP O2 is a gentle face wash that's great for those with stressed and tired skin. It gets rid of impurities while calming and protecting the complexion with vitamin E, so skin is left less irritated and rehydrated. Likewise, the Lait U cleanser works to wash away makeup, dirt, and bacteria, without stripping skin of moisture.
And for more luxe, nourishing treatments, look to Biologique Recherche's top-selling masks and creams, like the Masque VIP O2 and the Creme Dermopurifiante, both aimed at balancing and moisturizing skin. The line also includes several anti-aging products with top ratings, like the splurge-worthy Le Grand Serum, which promises radiant, smooth skin.
Whether you're in need of a new arsenal of effective, luxe skin care products, or you're furthering your quest toward emulating French beauty, the goods from Biologique Recherche are a solid place to start (as many, many reviewers have attested to). Shop the top ten products from Rescue Spa's offerings below, and head to the spa's site for over 100 more products from the sought after French skincare line.
We only include products that have been independently selected by The Zoe Report's editorial team. However, we may receive a portion of sales if you purchase a product through a link in this article.
Editor's Note: This article has been updated from its original version.