Here's How To Shop Milk Makeup's Newest Launch Before Its Official Drop
Courtesy of Milk Makeup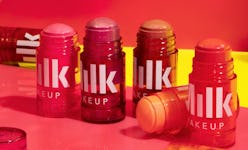 Paging fans of Milk Makeup's Lip + Cheek tint: Your favorite multi-use blush just got a shimmery summer makeover. Milk Makeup's Glow Oils take everything you love about the OG tint — its blendable stick formula, on-the-go packaging, the fact that you can use it anywhere you want a pop of color — and adds in a dose of hydrating shimmer. But if you want to grab the new product ASAP, you'll want to act fast. Milk Makeup's Glow Oils are available online for just five hours on May 14, days before the official launch.
Which will be May 17 on Milk Makeup's website, with the Glow Oils arriving at Sephora later this summer. So even if you do miss the Early Access (which starts 12 p.m. on Milk Makeup's site and closes at 5 p.m.), you will get another chance to snag the makeup brand's newest product. Though there is another reason to move quickly, even on May 14 — Milk Makeup notes online that there are only limited quantities of Glow Oils available during the Early Access event.
And you'll probably want to add it to your collection, even if you've never used Milk Makeup's Lip + Cheek tint (or anything else from the brand). The new Glow Oils retail for $14 apiece and come in five different shades, ranging from a bright bubblegum pink named Halo to a cool purple named Astro. Each color is a sheer shimmer shade — so you won't have to tap on any highlighter once you're finished applying your blush, or top your lips with an additional gloss.
The new Glow Oils also follow along with Milk Makeup's ingredient Blacklist; i.e. they're vegan, cruelty free, and made without parabens or synthetic fragrances. However, you should also pay close attention to what is included in the Glow Oils — because the tints are more than just makeup. The new products are formulated with rice bran oil, a skincare ingredient that's packed with hydrating antioxidants and vitamins. (And, according to Birchbox's website, Milk Makeup previously used rice bran water — also known as Oryza Sativa Bran water — as a toner in its Face Mist spray.)
That said, Milk Makeup itself may have pointed out the best reason beauty fans should grab a Glow Oil for summer; the brand compares the tint's finish to a "popsicle stain" in the product description. Basically, it's summer in a stick (minus any frozen treats).
Below, all five new Glow Oil shades from Milk Makeup.