Drew Barrymore Just Launched A Home Decor Line, & The Prettiest Under-$50 Pillows Are Included
Dimitrios Kambouris/Getty Images Entertainment/Getty Images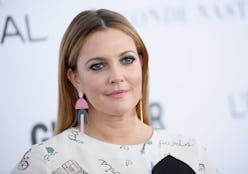 Much like your closet, your home can benefit from a bit of spring cleaning this time of year. Tackling both on a budget, though, can prove to be quite a challenge. Seasonal sales and affordable retailers offer a wallet-friendly way to freshen up your wardrobe, but what about when it comes to your interior decor? That's where Drew Barrymore's Flower Home collection comes in. The actor's newly released line is the budget-friendly solution to brightening up your home this spring.
Barrymore is a woman of many talents and endeavors, and she just added another project to her already-extensive portfolio. On Thurs., the actor launched her first-ever home decor range, dubbed Flower Home, in partnership with Walmart — and it's just as dreamy as you'd think.
The nearly 220-piece collection, which draws inspiration from Barrymore's quirky, free-spirited personal style, consists of everything from framed prints to a luxe velvet sofa (that looks far more expensive than its $899 price tag), elegant ceramic vases, fun lamps, practical home storage necessities, and the prettiest under-$50 decorative throw pillows.
The common thread among nearly every piece in Barrymore's new home decor range is fresh, blooming floral motifs — and there's a touching reason behind the design decision. "I always thought I loved flowers because of E.T," she shared with People. "I tell Stephen Spielberg I love hearts and flowers because E.T. had a big, red beating heart and I would always bring him flowers," she shared.
Barrymore's love of flowers stems back even further, though. "I think I'm most inspired by my godmother. She had a very salon-style house," she told People. "The walls were filled and there were books and soft floral pillows. That's my biggest childhood influence, living in Anna's house and seeing The Ivy [an L.A. restaurant] be made."
The actor designed her collection with coordination in mind. Every piece complements the other without looking overly matchy-matchy. "I wanted to create rooms that were very easy to understand, and things are going to go together, but it's not all one note," she shared with WWD. "I hate one note. I've always been turned off by the designer-y look."
Ready to give your space a spring clean? Refresh your interior decor with The Zoe Report's favorite pieces from Barrymore's Flower Home collection, below.
Shop The Collection