Dr. Barbara Sturm's New Moisturizer Will Keep Your Skin Hydrated (Even In The Snowiest Weather)
Pixelformula/Sipa/Shutterstock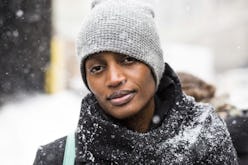 Upon first glance, you may not think you need Dr. Barbara Sturm's new Ski Cream. The $115 face cream — which launched late last month alongside the luxury skincare brand's new Lifting Serum — is for, well, skiers. Right? If that was your train of thought, you're definitely not wrong, per se. "Being a passionate skier my entire life I have always wanted to create a cream that protects the skin from the harsh elements of the cold, snow, and wind whilst at the same time repairing the skin from within. So I created the Ski Cream, an instant essential of mine," noted Dr. Barbara Sturm herself in a press email.
Still, you may experience equally frigid weather simply by walking to your car — though a layer of Ski Cream will keep your fragile skin barrier protected from every blustery breeze. The new cream uses a water-in-oil formula spiked with shea butter, jojoba oil, and Dr. Barbara Sturm's signature purslane to shield skin, while also reducing winter-inspired irritation and redness. All relatable things, whether you're on top of a mountain or stuck outside during a snowstorm for more than 10 minutes.
Nevertheless, it was important for Ski Cream to get into the hands of sports enthusiasts. "I wanted this product to reach all skiers around the world which is why I collaborated with Perfect Moment, a skiwear brand that reminds me of the ski outfits I would wear in my youth," Dr. Sturm added. "This embodies the joy of being in the mountains — a feeling I want to share with everyone with this product!"
This means you can find the collaborative product on Dr. Barbara Sturm's website, as well as at PerfectMoment.com (and online at Net-a-Porter). "Dr. Barbara Sturm has fast become my 'go-to' brand for summer skin care, I am never without her Sun Drops when I am in the sun," said Jane Gottschalk, creative director of Perfect Moment, in the same email. "I was thrilled therefore to be asked to collaborate with her on a specialized Ski Cream for winter to combat the negative effects of freezing temperatures and the dryness and sensitivity that this brings. Both passionate skiers, we know well how harsh conditions can be in the freezing cold and protecting the skin is vital."
Though, if you've ever attempted to fight back against dry, winter-depleted skin — on and off the slopes — you probably know that as well. Below, Dr. Barbara Sturm and Perfect Moment's clever new cream.