Here's How Christen Dominique Uses Her New Eyeshadow Palette To Create The Perfect Everyday Look
Courtesy of Dominique Cosmetics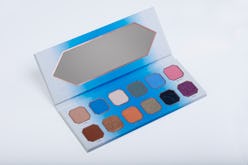 If there's someone who knows seemingly everything about what's best in beauty, it would be a YouTube star. The biggest beauty bloggers on the popular video platform have tried pretty much every product out there — and subsequently dropped their own lines to help fans achieve their ideal looks. One such industry star is Christen Dominique, whose line Dominique Cosmetics is making waves in the beauty world. And now, the Dominique Cosmetics Rustic Glam Eyeshadow Palette just took things to a new level for the brand by offering up the only 12 shadow you'll need for summer.
Beauty vlogger Christen Dominique boasts a whopping six million followers across her social channels (including 4.2 million YouTube subscribers). So when the beauty star started her own beauty line, aptly dubbed Dominique Cosmetics, it's safe to say she'd done her research — after all, she's tried enough products from top brands to know what's good. And for Summer 2019 the line, which includes large-pan palettes like this top-rated highlighter set and creamy matte lipsticks, is looking to shake up your eyeshadow game with the Rustic Glam Eyeshadow Palette.
The palette, priced at $44 just like the brand's other 12-pan Berries & Cream shadow set, launched on Dominique Cosmetics' site and Sephora on June 6 along with a $45 Eye Brush Set (which is exclusive to the Dominique Cosmetics site), right on time to help you get ready for every event summer will bring your way. The Rustic Glam palette's 12 shadows range from buttery mattes in bold hues like ocean blue to shimmery metallics in must-have summer shades like gold.
"Rustic Glam is a vibe that I feel sets the tone for the summer. It's a mix of bohemian beach day looks plus glam summer night looks," Christen Dominique tells The Zoe Report. "This palette has amazingly pigmented rustic red and orange shades to pair with a brown smokey to give the look dimension and richness, while there are pops of blues and pinks to create super fun day looks - it's just the perfect summer palette."
And though many of the palette's hues seems pretty bold, it's actually incredibly versatile and ideal for creating a gorgeous everyday look. Dominique, for one, loves to use the neutral-hued shadows to create a natural smokey eye for daytime. She uses soft taupe Fringe to cover her lid, then works rust-brown Suede into the outer crease. Add a pop of shimmer with champagne color Wanderlust in the inner corner and she's done — Dominique says the result is simple, but eye-catching and elevated.
For more fun affairs, she recommends getting a little more playful with the palette and blending bolder shades, like the ocean blue Evil Eye and blush pink Wildflower. And despite the palette's primary focus on eyes, it's completely acceptable to swipe these shadows on elsewhere to enhance your whole face. Try using Wildflower to create a healthy-looking flush across the apples of your cheeks.
Convinced you need to snag the YouTube star's latest launch? Shop it below, along with the essential brush set that'll help you craft all your eye-catching looks.