Diptyque's New Collection Is Inspired By Parisian Blooms In Early Spring (& It Won't Be Available For Long)
Courtesy of diptyque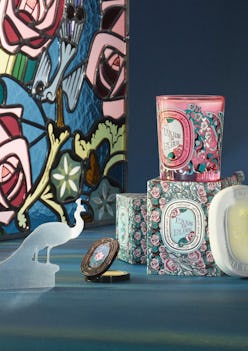 Imagine it's early morning and you're strolling along the river Seine in Paris, just as the flower stands are setting out the day's fresh blooms. It's spring time, and the City of Light is covered in emerging flowers waiting to be discovered across its many parks and neighborhoods. Sounds pretty perfect, right? The good news is you don't have to book a flight to France to experience the sweet, floral aroma — instead, indulge in diptyque's new Paris En Fleur Collection. But know that it'll be as fleeting as those first spring blossoms.
The new candle collection lands on diptyque's site and in boutiques right at the start of the new year on Jan. 2, alongside the famed French fragrance brand's newest chypre perfume called Eau Capitale. But the home fragrance items won't be sticking around for long; in fact you'll only be able to get your hands on them through February 2020. And as with any exclusive launch from diptyque, you know that limited supplies mean it'll sell out fast.
Paris En Fleur's collection includes the ultra-limited edition scent in candle form (in two sizes, 70g for $38 and 190g for $74) and a scented oval, $60 that can be hung and displayed in the home. And just like that, you'll be transported to a flower shop in one of Paris' famed arrondissements.
The fragrance is centered on fresh spring roses (because, what else), and mimics the cheery chypre bouquet of diptyque's new Eau Capitale eau de parfum with fresh floral notes, citrus hints, and an earthy patchouli that pleasantly hangs around in the air after you've blown the candle out. The mingled scents manage to evoke the inimitable feeling of that leisurely, meandering walk along the riverbank, floral arrangement in hand.
Naturally, diptyque packaged the limited edition candles and scented oval in incredibly chic packaging fitting for a Parisian spring-inspired collection. Brightly colored rosebuds adorn the boxes, and the candles' rose pink glass features a flourish of blossoms fashioned in an art-deco style. It'll look just as irresistible sitting on your coffee table or in your bathroom as it smells.
Been longing for a trip to Paris? Save on the airfare and scoop up diptyque's very limited-edition candles while you can on Jan. 2.