31 New Beauty Products To Try In The New Year
Amika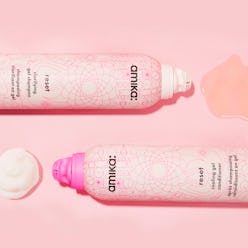 Starting the "new year" on January 1 is kind of arbitrary, really. The date is only significant because a Roman dictator (Julius Caesar) deemed it so. Still, I guess it's as good a time as any to reevaluate your entire life, or at least your entire beauty routine. Will this be the year you actually get bangs? Or organize the skincare products that have taken control of your bathroom cabinet? Allow the new beauty products for January 2020 to guide you toward the right (albeit random) resolution for you.
If you're curious about the clean beauty trend, consider the latest skincare products from Moon Juice: Milk Cleanse, a straightforwardly-named milky cleanser; and Cosmic Cream, a mushroom-infused moisturizer — both made without parabens, petrochemicals, phthalates, or silicones. Perhaps you want to cultivate a more sustainable self-care regimen; in which case, Bathing Culture and LESSE have just the thing. The former recently released its cult-favorite Mind and Body Wash in one gallon jugs (all the better for refilling, which makes for less packaging waste), while the latter now offers a plastic-free detangling comb crafted from wood and paper pulp. Want to finally take up facial massage? Grab UMA Oils' brand new Kansa facial wand — it's Ayurveda's answer to the jade roller.
Ahead, 31 beauty products launching in January 2020 (one for every day of the month) to arbitrarily set the tone for the year ahead.