Here's When You Can Shop Diptyque's Black Friday Candle (Because It's Going To Go FAST)
Courtesy of diptyque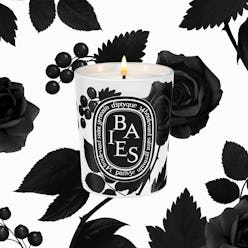 Every diehard diptyque fan knows how intoxicating the brand's best-selling Baies scent is — and most have every iteration of the candle they can get their hands on. If you fall into that category, it's time to get your wallet ready. Diptyque has announced its Black Friday Limited Edition candle for 2019 — and there's absolutely no doubt that it's going to sell out (and fast).
And not just because it's a must-have launch — although it certainly is, thanks to its chic black and white packaging that features a photographic collage of the elements (think roses and blackcurrant leaves) that make up the cult-favorite scent. It's also because the candle will only be available on diptyqueparis.com for four — yes four — days, starting Nov. 29 and ending Dec. 2. Considering the limited-edition candle will last you for years (yes, that's including the time you'll inevitably turn it into a makeup-brush holder on your vanity) and costs $74, it's pretty much a no-brainer purchase this holiday season.
For those not familiar with the iconic Baies scent, it's time to get acquainted. The best-seller is described by the brand as a "berries and roses duo," which includes "the green, tangy accents of the freshly picked berries highlight the floral, gently spicy scent of fresh roses." And it's exactly as it sounds, but somehow better (if you can't tell, I consider myself one of those longtime fans — the scent has been a staple in my bathroom for years).
The brand obviously knows how much customers love its scents, because it's become known for making its sought-after candles available for very limited times. The brand also released a Black Friday candle in 2018 for four days, and just this year it made its City Candles available online for a short five-day period.
Now that this version of the candle is officially returning, it's sure to cause a frenzy — and there's pretty much no doubt it'll sell out. And considering Black Friday is the wildest shopping day of the year, it's best to mark your calendar for Nov. 29 now so that you don't forget to stock up on enough candles to last you until the next limited-edition launch.