Try On These Cult Accessories From The Runway With Dior's New Instagram Filter
Pascal Le Segretain/Getty Images Entertainment/Getty Images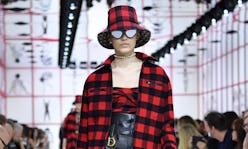 Apple's Photo Booth effects walked so Instagram filters could fly. Considering the increasing popularity of these filters, it was only a matter of time before fashion brands would have a go at this social media trend. Some, in fact, have made it possible to simulate iconic runway beauty looks, while others, like Louis Vuitton, let you step into its art-inspired world. And with Dior's new Instagram filter, the French fashion house puts you into its latest runway pieces.
When brands were showcasing their Fall/Winter 2019 collections earlier this year, Dior made a strong case for the bucket hat as an essential fall style. And now it's finally time to put the trend in motion. Thanks to the surge of augmented reality, the new filter lets you try on key accessories from the runway; whether you are playing around with a look (without the commitment of buying) or simply playing dress for a quick selfie, the luxury fashion label's new Instagram filter will let you do just that.
Dior's Check'N'Dior filter launches right as the brand's new collection arrives in its retail locations. Using AR, the designer label worked with The Mill to create the filter, which allows you to virtually try on the makeup look and accessories that were part of the collection's runway show.
Sport the Teddy D Check'N'Dior Small-Brim Bucket Hat with Veil in red, white, or green. Or, wear the CatStyleDior sunglasses adorned in Swarovski crystals. And just in case you prefer a subtler look, the glasses also come in classic black. Along with these accessories, the filter features a checked background to go with each color.
For anyone who wants to give their Instagram stories an old school, rock 'n' roll feel with a high-fashion touch, this Instagram filter is for you. With a simple prompt to open up the social media platform, the filter will be readily available on your stories.
Of course, if you just can't get enough of these look and want to make these pieces your own IRL, scroll down to shop the two accessories from Dior.