Dermstore's Having A Massive Sale Right Now & So Many Cult-Favorites Are 20 Percent Off
EVE LOM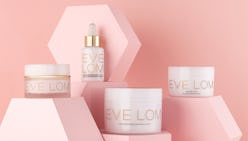 As Memorial Day weekend approaches — and your inbox accumulates more and more promotional emails — you may be wondering if you're missing out on any truly good sales. And, if you're a beauty fan and haven't visited Dermstore's Summer Sale — you'd be right. The brand's seasonal event should be one of the first places you shop this long weekend. Ending May 28, Dermstore is offering 20 percent off participating brands, and all you need to do is type in the code SUMMER before you check out.
Fortunately, you don't need to scour the website to find which products are marked down. Dermstore neatly lists all of the brands participating in the Summer Sale on its website; and there are still enough included to merit some serious time poring over this sale. A few will instantly catch the eye of anyone that keeps up with which brands currently have diehard cult followings, such as Sunday Riley, Dermalogica, and EVE LOM. (Which means the EVE LOM Cleanser is on sale for 20 percent off, too.)
Looking for cosmetics over cleansers? There are notable makeup brands on sale, too, if you're all stocked up on skin care for the moment. Smashbox is included in the sale, bringing with it a bevy of fan-favorite products. Snag the iconic Photo Finish Smooth & Blur Primer if you're not sure where to start with the brand. Known for its ability to turn skin into a silky smooth, makeup-ready canvas, the regularly $36 primer is on sale for $28.80 during Dermstore's event.
Likewise, RMS Beauty's "Un" Cover-Up is another sale addition worthy of adding to your makeup stash. Also discounted to $28.80 from $36, the lightweight concealer has a reputation for being one of the best in the game — especially for anyone on the hunt for organic, minimalist makeup. It's packaged in a small container, not a tube or a stick; you only need to swirl a bit of product onto your fingertips then dab it on top of anywhere you want coverage.
Those are just a few of the products that instantly jump out, though — there are way more that deserve a look, too. So keep scrolling down to discover what else from Dermstore's sale you should add to your shopping cart.