Deborah Lippman's Spring Drop Is What Pastel Manicure Dreams Are Made Of
Deborah Lippmann/Instagram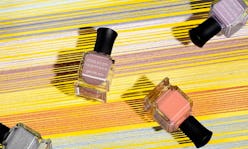 Winter got you wishing you were somewhere else (preferably a much warmer destination)? Sadly that reality may be reserved for just your dreams for the time being — but that doesn't mean you can't get your manicure in a spring state of mind. And that's precisely what Deborah Lippmann's Soft Parade nail polish collection is here to help you do. But this drop of dreamy pastels isn't your average range of baby pinks and sky blues; it's a fresh, modern take on pastel manicures.
Though spring is still a couple months off, celebrity-fave manicurist Deborah Lippmann is thinking warm, happy thoughts and getting ahead of the game by dropping her eponymous line's Spring 2020 collection. Which is good news for you if you're rocking an on-trend winter manicure shade but can't stop dreaming about the season that lies ahead. And you'll really fall for this fresh take on spring pastels.
Sweetly dubbed "The Soft Parade" and now available to shop on Deborah Lippmann's website, the polish collection includes four limited-edition shades to herald the arrival of spring. Described as "gently and dreamy ice cream colors" in an Instagram post by the brand, the fresh pastel polishes, $20 each, are practically begging to be taken on a trip somewhere warm, ASAP.
But instead of whisper pinks and baby blues reminiscent of an Easter egg basket, Deborah Lippmann imagined these pastels in a mid-tone palette that feels modern, playful, and cool — case in point, they're called "acid-pastels" according to the same social media post.
Heat up your manicure with Everytime We Touch, a vibrant cantaloupe color with a creme finish, and Punch Drunk Love, a rich rose with warm taupe-y undertones. They're creamy colors that'll be opaque on nails with just two coats, and have the appearance of deeper shades that have been bleached in the sun (hence, the acid-wash reference).
Call Out My Name is a dusky lavender creme that falls closer to the classic interpretation of pastels, so it's a perfect pick for those who can't imagine spring without a sweet shade. And Fallin', the collection's only shimmery polish, will help transition your nails from winter to spring with a sheer, holographic gray that's a sophisticated, feminine take on the cool, steely hue. Need all four? You can nab the full set with $20 in savings with this Spring 2020 bundle for $60.
Prep your polish collection for the arrival of spring by shopping the new Deborah Lippmann drop, below.