Deborah Lippmann's New Fall Nail Polish Collection Features The Perfect Low-Key Shade
Deborah Lippmann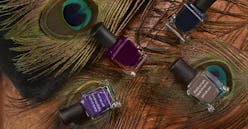 Although it may not seem like it outside, autumn really is about to arrive, and it's going to bring with it a sudden need to accessorize appropriately. And if you consider a season-inspired manicure to be your favorite accessory, then Deborah Lippmann's Wild Life collection should be next on your shopping list. Released in Aug., the brand's fall 2019 nail polish collection features three wear-with-everything autumn hues plus one unexpected, purple glitter shade (for when it gets a little too dreary outside).
"These new autumnal hues evoke raw and rustic nature," the brand noted on an Instagram post unveiling the fall nail polish collection. The Wild Life collection was inspired by the midwest — particularly the drier landscape, as seen in the perfectly low-key nail polish shade "Been Around The World." The dreamy, fawn-colored neutral retails for $20 — just like all the other shades in the collection — and will give you plenty of wear; it'll go with anything in your closet, whether you pair it with a brightly colored sweater or an equally neutral coat.
Deborah Lippmann's new "Fight The Power" and "Spill The Wine" nail polish shades also contribute to the hazy, rustic story of the collection; the first is a deep blue-green shade, while the latter is a wearable berry red. Meanwhile, the sparkly purple "Rule Breaker" shade adds something completely different to the collection — it's a medium-coverage shade scattered with holographic shimmer.
No matter which shade you choose, you'll get the perks of Deborah Lippmann's Gel Lab Pro Color formula: It's vegan, made without animal testing, and is formulated sans ingredients like toluene, formaldehyde, camphor, and more. Even more exciting are the formula's benefits, though; it imitates the look of a glossy gel manicure without the potential damage or trip to the salon. Each color is spiked with biotin and keratin, as well, to give your nails a slight boost with every manicure.
You can find Deborah Lippmann's new Wild Life collection on DeborahLippmann.com, or online at select retailers such as Sephora, Bluemercury, or Neiman Marcus. Below, the four new shades from the fall 2019 collection.