This New Digital Platform Is The Jewelry Equivalent To Warby Parker
Courtesy of Gemist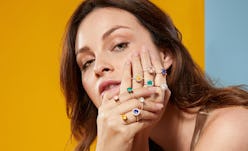 To say that the digital age — with its social media, online magazines, and everything else — has greatly contributed to the world as we know it would be a massive understatement. In fact, this decade may go down in history as the era of smartphones. After all, you'll be hard-pressed to find someone who isn't carrying the pocket-sized device with them everywhere they go. More likely than not, you use your phone for far more reasons than just communication. Whether it's finding inspiration and sharing photos on Instagram, shopping with your favorite retailer, or ordering your next Postmates delivery, you can do it all in the palm of your hand. And now, you can add creating a custom jewelry design to that list.
The idea of creating a custom ring can seem like a complicated one, but with Gemist you can design the ring of your dreams at the touch of your fingers. With this new digital platform, you'll be able to create a ring beginning with inspiration images to the final design. And, once you've designed a few styles that you can't get enough of, they'll create identical versions for you to get the look and feel of each style before committing to the real thing.
According to the company's founder, Madeline Fraser, Gemist launched to give its customers a simple way to customize any ring "from the comfort and convenience of their phones." And while you might think custom ring designs are specifically reserved for those of the engagement variety, the digital platform can also be used for other styles, including dainty everyday rings.
Creating the perfect ring is simple with its easy step-by-step process. Then, after you've designed a ring to your liking, you can try up to three Stand-In styles — which are identical models made with sterling silver, gold plating, and synthetic stones — at home for two weeks before choosing what style you ultimately want to add into your jewelry box. Of course, if you happen to fall in love with one of these options while trying them on or you want a backup version for traveling, you can purchase each style for under $250.
Just in case you don't see exactly what you're looking for in the designs you've created, you can also work directly with a Gemist stylist for a fully customized ring using the company's On the Hunt program.
Ready to spark your creativity and start designing a new ring? Be sure to download the Gemist app for your smartphone now or head to Gemist.co to get started.