ColourPop's New Lipstick Has The Luxurious Velvet Finish You've Been Waiting For
Courtesy of ColourPop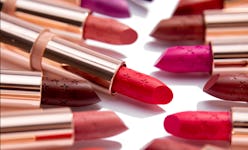 ColourPop's starting 2019 off with a bang (or rather, a pop). The affordable makeup company announced it's launching a brand new lipstick formula — the ColourPop Blur Lux lipstick — and fans are thrilled, to say the least. Wondering why? The Blur Lux collection promises a trendy blurred matte finish that won't dry out your lips, all for the low price of $7 per tube.
The Blur Lux collection drops exclusively on ColourPop's website at 10 a.m. PT on Jan. 10. Though ColourPop may be known best in the beauty community for its popular liquid lipsticks, it does already offer a matte bullet lipstick in its award-winning Lux Lipstick line. The Matte Lux lipstick also contains the same nourishing blend of pomegranate, goji, and grape seed extracts as the Blur Lux collection.
So, why would ColourPop go to all the trouble to release another matte formula? What makes the Blur Lux collection different than the Matte Lux — and most other matte lipsticks on the market — is its end goal. While the Matte Lux lipstick's finish provides lightweight, matte full coverage, the new Blur Lux offers velvety, buildable matte coverage with that will leave a soft edge around the lip. The Blur Lux collection contains blurring pigments, too, which fill in fine lines or lip imperfections.
For beauty fans used to the definitive edges liquid lipsticks provide, it may be hard to see exactly where the out-of-focus lip trend came from. Yet, a purposefully blurred finish has been the goal of makeup artists for a while. You can trace it all the way back to the longstanding K-beauty gradient lip trend, Pat McGrath's runway shows, or Parisian makeup artist Violette's blurry matte lipstick. Even model Hannah Ferguson told Vogue in 2018 that she uses her fingers to gently blur her matte red lipstick.
Leave it to a tuned-in company like ColourPop to provide makeup fans with a lipstick that doesn't require any extra steps. So while you could certainly line your lips before applying the Blur Lux, try embracing the romantic, breezy look of the soft formula.
The shade range, which includes 16 colors, is similar to past ColourPop collections. There are some gorgeous statement shades (Fake Love is a fiery fuchsia and SOLO is a deep, pretty scarlet), but the collection primarily focuses on ColourPop's trademark smokey neutrals and rosy mauves. Depending on how pink you like your nude lipsticks, Sphynx, Hey Mr. DJ, and Y2K all look like they could become go-to shades.
Ahead, snag the entire Blur Lux collection for $100. Looking for just one perfect color? Shop all of the individual Blur Lux lipstick shades on ColourPop's website.