Here's Exactly When You Can Get Your Hands On ColourPop's New Liquid Liner
COURTESY OF COLOURPOP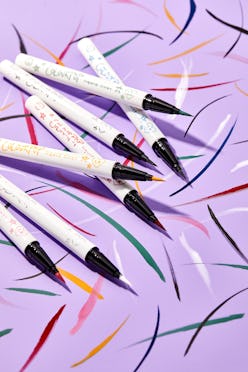 Achieving the perfect cat-eye continues to be one of those tricky makeup styles that inevitably leads to a lot of frustrating moments in front of the mirror, most often ending in defeat (and probably tardiness too). But, if you're trying to nail the look, don't wave the white flag just yet — instead, give ColourPop's BFF Liquid Liner a try. The brand's first-ever ultra-fine liner pen may be the answer to solving your wing-tip woes — and it comes with an affordable price tag, no less.
It's only the second month of the year, but ColourPop is already off to the races with several exciting launches, including the release of a new lipstick formula in January. However, the cult-favorite brand is focusing in on the eyes as of late, with the new eyeliners coming in on the heels of the BFF Mascara drop. And it makes perfect sense — because what's a mascara without its partner-in-crime? First announced on ColourPop's Instagram to its 7 million followers, The BFF Liquid Liners will officially be available for purchase on Feb. 15 and they're bound to sell quickly.
The new addition to the ColourPop collection is set to become a must-have product in your makeup bag with its wallet-friendly $8 price tag. Designed to help you achieve that coveted cat-eye look with just one swipe, the liners feature a flexible, precision felt tip packed with high-intensity color. The result? Accurately lined lids in smooth, saturated shades. Plus, you can trust this liner to have your back with its long-wear formula, which means no more worrying about smudging and flaking throughout the day.
Not only will you be able to grab a tube of the liquid liner in classic black, but it'll also be available in five ultra-colorful shades, including yellow, emerald green, sapphire, pink, and red — all hues you can really have some fun with this season. Or, you can opt for the final member of the family, a bright white that'll make your eyes pop in an unexpected way.
If you're in the market for a new liner or you just can't resist a ColourPop creation, circle Feb. 15 on your calendar; at 10:00 a.m. PT or 1:00 p.m. ET, you can start scooping up the new colors before your next big event.