Coach Is Celebrating Purses Of Its Past With This Brand-New Bag Collection
Coach/Instagram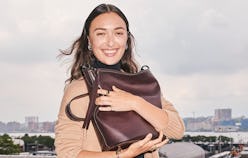 Though finding any bag you love in a thrift store is a score, there's nothing quite like the thrill of unearthing a classic Coach piece. Decades-old purses from the brand simply stand the test of time; chalk it up to the clean lines, smooth leather, and the perpetual power of a dangling Coach hangtag. Discovering these hidden gems was becoming harder and harder with each passing year, though — which makes the Coach originals that much more exciting. Debuted on Sept. 7, the brand's new bag collection makes it so much more easy to get your hands on one of its archival designs.
In fact, absolutely no thrift store bin hunting is required. The new lineup — which features bags that fall into the categories of Restored, Remixed, and Remade — has already landed on Coach.com. "The Coach originals is both nostalgic and new," reads a quote by Coach's Creative Director, Stuart Vevers, in a press email. "I wanted to create an experience that is unexpected to celebrate our heritage in a colorful, playful and irreverent way."
And each of the three categories nods to Coach's 78-year legacy by updating vintage and archival designs in some way: The Restored bags are pristine vintage pieces that have been cleaned and conditioned by experts, while the Remade bags are new, but are inspired by past silhouettes.
However, followers of the brand should first take a look at the Remixed category; it features a limited-edition series of one-of-a-kind bags that'll win the heart of any Coach fan. Just check out the $995 Remixed Dinky Satchel, handcrafted from multiple Coach Dinky bags (and already marked as sold out online). Lucky for you, the brass-and-black Remixed Upside Down Duffle bag — Coach's polished take on 2019's leather pouch trend born from a Slim Satchel — is still in stock and available for pre-order, if you have $795 to spare.
Make sure you keep an eye on Coach's Spring 2020 ready-to-wear show at New York Fashion Week, as well, if your interest in the bags is piqued. A selection from the Coach originals collection will appear on the runway Sept. 10. If you're in town for the week, you can also visit the Coach originals pop-up shop at Coach's Madison Avenue store from Sept. 7 to Sept. 15.
Below, five bags from the new Coach originals collection to add to your wishlist.