Claire Foy Makes A Convincing Case For Green Velvet
Carlos Alvarez/Getty Images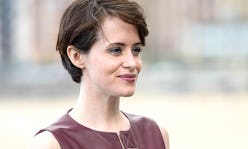 They say green is the color of envy, and everyone at Mon. night's First Man premiere was eyeing Claire Foy's green-velvet dress. The actor wowed before anyone even saw her performance in the upcoming film, which debuted at the San Sebastian International Film Festival in Spain. Her elegant gown will, without a doubt, have you shopping all things both velvet and green this fall.
Foy stepped onto the red carpet alongside costar Ryan Gosling at the Victoria Eugenia Theatre to celebrate their new film, First Man, which tells the true story of Neil Armstrong and his famous Apollo 11 mission in 1969. In the movie, Foy — who just won an Emmy for her portrayal of Queen Elizabeth II in The Crown — plays Armstrong's first wife, Janet. And while Gosling technically plays the lead role, the custom-designed Stella McCartney gown that Foy wore to the Spain premiere absolutely stole the show.
The actor's dress features an elegant, form-fitting silhouette and a subtle mermaid tail, but perhaps the best thing about it is its autumnal color. With a low-cut v-neck and sophisticated thin straps, Foy accessorized the dress with only a long pendant necklace that hit below the neckline. The English actor wore her pixie tucked behind the ear, away from her minimalist face makeup and subtle smoky eye. Clearly, it was the dress' night.
The rich shade of green mixed with a dense, textured material like velvet make Foy's dress the perfect pick for fall. And even though you might not be planning on posing on a red carpet anytime soon, you can incorporate this green-velvet look into your wardrobe just the same.
You can, for instance, try out the emerging blazer trend in a velvet material or just wear your go-to blazer layered over a velvet undershirt. A velvet skirt, by the way, is a great way to wear minis during fall's colder temps.
Ahead, a few of The Zoe Report's favorite green-velvet pieces inspired by Foy's epic dress.
Shop Green Velvet