You'll Want To Live In This Model-Approved Outfit Formula All Season Long
Gotham/GC Images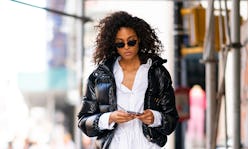 At long last, springtime is officially in full swing, and style lovers everywhere are commencing the season with bright whites, bare legs, and maybe even an open-toe shoe. Sandals and cutoffs aren't in the cards quite yet throughout most parts of the states, but Cindy Bruna's mini dress and sneakers combo is an easy outfit formula as you patiently wait for summer.
The French model was spotted out in New York City on Sun., looking as breezy as ever in a white mini dress and matching sneakers. Topped off with a shiny puffer jacket from Moncler, the outfit was simple and seasonally appropriate, serving springtime vibes while still offering protection from the city's gusty winds and mild temperatures.
The 24-year-old is known to keep her street style simple and sophisticated, and this airy look delivered on fresh minimalism for spring. Reiterating the mixing power of athletic footwear and feminine pieces, Bruna assured city girls everywhere that sneakers are here to stay, remaining a reliable style staple for busy days in the concrete jungle. Thanks to the no-fail footwear, city slickers are sure to get their steps in with style, no matter where they're headed.
From chunky dad shoes to sleek and simple low-rise styles, there are endless variations available when choosing the right sneakers. Street-style stars continue to push the envelop in terms of styling, approaching daring and unexpected combinations with ease. It's not uncommon to see a flouncy dress styled with a pair of New Balance kicks, or a colorful power suit topped off with classic Converse high-tops.
It's all about creating an interesting juxtaposition — nothing is off limits when it comes to the quirky look, so don't be afraid to get creative and have fun. With a sea of stylish dresses and sneakers to snag for spring all across the market, it's pretty easy to fall into a shopping rabbit hole when finding your dream pair. Start by pulling inspiration from The Zoe Report's picks for the model-approved formula, ahead.
Shop The Look