This Unexpected Trend Is The MVP Of 2018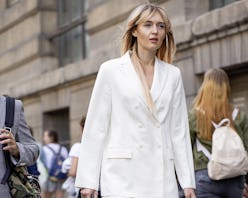 As fleeting as trends are, they seem to always have a way of coming back (we're looking at you, tiny sunglasses). Fashion's cyclical nature somehow makes their comeback inevitable, even when it comes decades later.
Remember 1988's Working Girl? The opening scene features Tess McGill, played by Melanie Griffith, on board the Staten Island Ferry wearing a pair of white high-top Reeboks, making her way to corporate America (aka the office). The movie spotlights the life of a New York female commuter, shuffling in from the outer boroughs with comfortable footwear that reads as a badge of honor for a woman climbing the proverbial career ladder. The scene of Tess frantically pulling off her sneakers and trading them in for black high-heeled pumps is all too relatable for many women.
Today's Tess might not change her shoes at all. Sneakers are now society's chosen shoe, and a glance down the NYC streets confirms that almost anything goes these days when it comes to footwear (and workwear, for that matter). Why? Because sneakers have become a beacon of style as well as comfort. We're sure you've noticed by now, but chunky trainers are increasingly dominating the fashion scene (and are now being designed by nearly every luxury brand, including Balenciaga, Louis Vuitton and Prada, as well as classic athletic labels like Nike, Adidas and Reebok) and have become one of the most ubiquitous shoe trends.
And, from what we can gather, the general silhouette sentiment here is the chunkier, the better! In a time where sleek, dainty tennis-like sneakers were ruling the market, fashion did a 180 and introduced this larger-than-life shoe. These widely embraced (or rejected) sneaks have invaded our subconscious to the extent that we have become completely absorbed by them. Some call this ugly fashion, but as today's beauty standards continue to shift, why should a sky-high stiletto be considered the only "beautiful" look?
And you have to admit, chunky sneakers have this strange ability to make whatever you're wearing look infinitely cooler. Freelance stylist and brand consultant Marissa Smith tells us, "I'm the first one to tell you I love a good sneaker. It's really all I wear—I have one pair of heels right now, and they are my wedding shoes." When it comes to styling them, Smith takes a formulaic approach: "I think because of the volume of the sneaker, you need to even things out on top—wearing a peasant top with ruffles and a great pair of denim shorts will make the sneaker look less huge on your feet." Another style pro and NYC-based stylist Annebet Duvall says she likes to go full-throttle throwback when donning a pair of sneakers, reaching for "a vintage T-shirt, slip dress and some gold chains." That said, Duvall feels sneaker style can be a veritable free-for-all: "They look great with everything from a full tracksuit to the girliest dress. This is a trend that is really easy for everyone to pull off."
If you're still on the fence and unsure about what to pair this trend with, we recommend going with the sartorial opposite and complement your casual footwear with more feminine hemlines such as a mini dress or midi skirt for glamorous edge. You can also add a whole new meaning to "business casual" and juxtapose the clunkiness of the sneaker by pairing it with a fitted power suit. (Bella Hadid is our favorite champion of wearing her sneakers with a suit.)
Taking a look at the growing number of chunky trainers on the street, the message is clear, they are not going away anytime soon. It's not even a trend as much as a symbolic comeback, if you ask us. So which shoe is right for you? Check out these various styles and wear them the best way you know how — however you want.