Ciara Just Combined 2 Of The Year's Biggest Trends & Totally Pulled It Off
Matt Baron/Shutterstock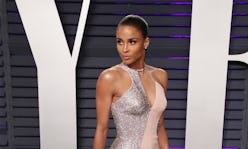 From bold neons to power clashing, spring 2019 is chock-full of daring trends to try, and Ciara's leopard and fringe outfit might just convince you to test a few of them at once. On Weds., the entertainment mainstay stepped out in New York City to celebrate her new InStyle cover, hitting up a private dinner with fellow A-listers like Emily Ratajkowski, with beau Russel Wilson by her side.
Whether breaking it down with jaw-dropping choreography or serving iconic looks on the red carpet, Ciara has a way of leaving onlookers breathless — and Wed.'s event was no exception. Donning a leopard-print corset and shimmery fringe skirt from Tom Ford's Spring 2019 RTW collection, the singer turned heads on her big night, masterfully demonstrating how to serve runway looks in real life.
In terms of trends, the natural inclination is to focus on one at a time, but Ciara's next-level look is proof that they don't need to be mutually exclusive. As you spring forward into a new season and a fresh aesthetic, why not take the plunge and give a few fresh trends a whirl in one stellar look? With a bit of thoughtful styling and an ounce of nerve, it's totally possible to merge a few of your favorite runway trends into one succinct look.
It's no secret that animal print has been reigning supreme, and it doesn't seem to be slowing down this spring. At the same time, Western-inspired trends like fringe and cowboy boots are also having a moment — and luckily, both pair quite well together. Even though Ciara's fringe skirt is giving flapper vibes, it still falls in line with the cowboy glam that's been taking over — and it looks so right with her leopard-print ensemble.
If you've already fallen in love with a handful of trends for the season ahead, but aren't entirely sure how to merge them into one winning look, check out the outfit formulas below. The Zoe Report pulled some of the most highly anticipated staples that are sure to dominate this spring, and paired them in a way that will only come off the perfect amount of extra.
Shop The Look