What To Wear With Leopard Print When You're Running Out Of Outfit Ideas
REX/Shutterstock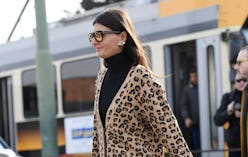 By now you know you that leopard print is fall's biggest trend. The iconic print is incredibly versatile, striking a balance between neutral and daring whether you choose to rock spots in the form of jeans, a tie-neck blouse, or as a head-to-toe look. But, now that you've tried the trend once or twice, chances are you are rethinking what to wear with leopard print. You want to break from routine and veer in a bolder direction, but you're not sure where to start.
The first source of inspiration: the runway. During the Fall/Winter 2018 season, leopard print ran the gamut. From ultra-tailored outerwear at Victoria Beckham and Michael Kors to textured head-to-toe looks at Max Mara all the way to neon takes at Tom Ford, Diane von Furstenberg, and R13. The overall message from designers can be summed up as this: The bolder, the better. While this concept doesn't always apply in real life (not everyone considers an orange leopard-print suit everyday dressing), with a little inspiration, there are ways to style leopard print that are both novel and entirely wearable.
The lesson here is that while always impactful, leopard print can serve as a neutral in a black and tan palette and can be worn myriad ways. Styled with classically elegant silhouettes, it can accentuate clean lines and polished details. Or, it can be a foil to brighter, punchier pieces, contrasting pops of color or clashing patterns. While the latter is often reserved for the sartorially brave, there's no reason even the most cautious of dressers can't experiment with the trend and wear it to work with the same conviction that you would don it for date night or a special event.
To help de-code leopard print and avoid outfit fatigue all at once, Bloomingdale's Vice President and Fashion Director for Ready-to-Wear, Heather Shimokawa is sharing her tips on how to wear the playful pattern with total ease. By offering up three easy outfit formulas, the fashion pro reveals how simple it is to downplay the print at work or dial it up on the weekends. Plus, shop the edit of pieces below to re-create each of Shimokawa's must-try leopard looks.
Try: Leopard As An Accent
"Leopard prints should be considered a neutral," Shimokawa says. "For those who tend toward a quieter play on the trends, it can be a pattern-pop accent against a monochromatic look. Leopard shoes, a bag, or even a jacket makes a great accent piece to an all navy or jewel toned look."
Try: Leopard With Neon
"For more adventurous fashionistas, a neon or bright-colored sweater pairs well with a leopard-print skirt," says Shimokawa.
Try: A Classic Silhouette in Leopard
"Leopard can also be a powerful trend for office wear," Shimokawa says. "Consider investing in a wardrobe staple in this season's print. A leopard-print blazer will definitely carry you beyond this season. I love a leopard-print blazer or bold statement dress in the print paired with black or camel to create a timeless take on the trend."