The $20 Serum That Ciara Swears By
Stefanie Keenan/Getty Images Entertainment/Getty Images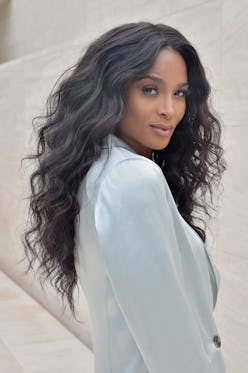 It's been more than 15 years since Ciara declared that the Goodies would remain in the jar. These days, she's trading in that infamous candy-red drop top for a mom-mobile, encouraging us to Level Up, and inspiring everyone to find their own Russell. And while I didn't get the secret to the latter during our Oct. 16 chat, I did get to learn the ins-and-outs of Ciara's beauty secrets, and why her late start into the beauty world make her the perfect spokesperson for cosmetics subscription brand, Ipsy.
But much to my surprise, I found out immediately that it's not the hundreds of products that drew the self-proclaimed tomboy in. In fact, it was her long-standing belief that beauty comes from within, a message echoed in her seventh studio album Beauty Marks. "What sold me was the concept of inclusivity and diversity with Ipsy's Discover Yourself campaign," she tells me. "That's been really important to me especially with my own personal journey with Beauty Marks. The concept behind my album was about how all the scars make us who we are. To really be able to share that with everyone on yet another platform is important to me. I want people to know that we're all in life together."
Ahead, find out how self-love, a consistent crew, and her own trial-and-error has helped her lean into the beauty world.
On Skincare
‌Ciara said she loves the abundance of products she's been able to try through her Ipsy subscription, a monthly glam bag that's tailored to consumers' likes and cosmetics needs. "I think sometimes in the beauty space it can be a little overwhelming, and we don't know where to start," she says. And when asked her favorite category, it's no shock that skin is at the top of her list — because have you seen her complexion? "There's a cannabis foaming cleanser that has really helped my skin lately. I've also been loving the Vitamin C Serum from Derma E. There's so many levels to skincare, especially for Black women. I use it with the Murad Essential-C Day Moisturizer along with some of the Skinceuticals products I've received and it's done wonders for my skin," she shares. So with the temperatures dropping, she's taking her routine a little further with a very necessary addition. "There's this really cool hydrating mask I'm trying, I'm really into masking which is really fun."
On Her DIY Makeup Routine
Unless she's on the stage or on the red carpet, you certainly won't catch Ciara with a full-face of makeup on — just the essentials. "I love the NARS Creamy Concealer," she says. "I also always have an eyebrow mascara on hand to keep my eyebrows in check, and then of course, there's powder: one that's on the lighter side for a highlight, and one that's darker to bronze and add warmth to my perimeter. When it comes to my lips, I like to layer my glosses. I do a liner, then a lipstick, and then top it off with a little bit of gloss on the center to add some dimension and to give my lips a more defined shape. Honestly, those things and I'm ready to rock and roll." And when she's trying to add a color, she relies on the MAC Cosmetics classic Ruby Woo for a special pop. "I always love a classic red."
The lesson in a quick beat comes from her makeup artist, Yolonda Frederick, who has been with her since she was a teenager — and served as the matron of honor in her 2016 wedding to Russell Wilson. "She helped me figuring out this makeup thing early on. She's just so beautiful and takes such good care of herself, so I definitely am observant of what she does," Ciara says.
On Keeping Her Natural Hair Healthy
Hairstylist César Ramirez has been a part of Ci's team for more than a decade, responsible for everything from her faux-locs to sleek and chic bobs, teaching Ciara how to properly maintain the health of her real hair in between protective styles. "You have to wash your hair consistently. That's the key," she shares. "And making sure you're conditioning is even more important. I remember asking César about hair health, and in that moment I realized I wasn't conditioning well. So since then I've used a lot of masks. I think protecting your hair as much as you can is important which is why I love extensions."
And with a schedule that requires daily styling, extensions are exactly why her hair remains thriving. "I just take a lot of pride in how much I've grown out my real hair, so I like to keep it covered," she says. "You can have so fun with hair pieces. You can experiment as much as you want, and you don't have to compromise your own hair. That's the luxury of them."
On Raising A Beauty Guru In The Making
Ciara, who's mom to Future, 5, and Sienna, 2, is already having to hide her makeup stash from prying eyes. "She absolutely will be a beauty girl," Ciara says about her daughter. "Even now she thinks she's supposed to sit in the makeup chair. She loves it. Right now I'm just trying to slow her down because she always wants to put on her 'wip woss' and her dad is like, "What lip gloss? You don't need lip gloss!"