The Coolest Natural Hairstyles From Spring Runways To Copy Right This Second
Courtesy of TRESemmé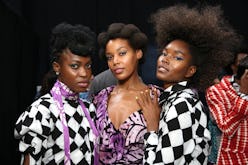 It's hard to imagine that there was a time when bone-straight hair was only welcomed on high-fashion runways. You might have seen a soft wave here or there, but natural, tight curls (on models of color, at that), were a rare occurrence. And while there's still more progress to be made regarding Fashion Month diversity as a whole, the strides are becoming more noticeable, coil by coil. Take the natural hairstyles from of the Spring/Summer 2020 runways as proof of that, as they further reveal the broadening inclusivity of backstages across the globe.
From rearward cornrows that morphed into bangs at Studio 189, to hair cuffs that paid homage to black-female icons at Pyer Moss, Fashion Month revealed to be one of more versatility and brilliance than ever before. "I'm seeing a lot more freedom and confidence in the natural hair community," Ursula Stephens, key stylist for Maki Oh and Studio 189 and TRESemmé ambassador tells TZR. "When it first started, many naturals were really hiding behind protective styles like braids and weaves, but now more people are truly embracing and accepting their own texture."
Additionally, myths of natural hair only confining to certain styles continued to be shattered in the past weeks. "Whether the models were braided or they wore their natural texture, the fabric of the hair gave us so many options," Jon Reyman, key hairstylist for Pyer Moss and Dyson Hair ambassador says. "There were opportunities to make it bigger, smaller, and so much more."
So behold, a resplendent collection of natural hair moments from Fashion Month proving texture was the true star of the runway-focused weeks.
Textured Bangs
Seen at: Studio 189
This look created by Stephens was imagined with the intent of putting a textured spin on traditional styles. In this case, it was bangs. By braiding cornrows toward the front and leaving the ends free, the vibrant collection of Studio 189 was met with an equally astounding hairstyle.
Geometric Afro
Seen at: Maki Oh
This head-turning look involved lots of hairspray, lots of clips, and lots of geometric genius. "Shapes were an inspiration for me as well as a challenge," Stephens says. "Natural hair is so moldable. It can do what you want it to, so it's just fun for me to create different shapes and create a sculpture rather than just a hairstyle."
Scarf-Wrapped Ponytails
Seen at: Maki Oh
The dominatrix-esque updo paired with elaborate baby hair is Stephens favorite look of the season. "I really loved the whiplash fabric wrapped ponytail we created for the Maki Oh show. It was current with the perfect mix of power and sexiness," she says.
Mini Puffs
Seen at: Pyer Moss
The highly-talked-about celebration of Black fashion was, of course, accompanied by some dynamic natural styles crafted by Reyman. For this look, he parted an Afro into several sections, securing each piece with a rubber band and lightly fluffing the puffs.
Sleek Cornrows
Seen at: Lanvin
When it came to the braids at Lanvin, editorial hairstylist Duffy decided which style each model would wear based on their bone structure. "Some girls just got the front half cornrowed, some had box braids, and some are getting much larger more modern braids," he says. "It's really about letting their face shape and cheekbones guide the look."
Iconic Face Beads
Seen at: Pyer Moss
"We knew we wanted to tell a braiding story," Reyman says of the array of styles seen at Pyer Moss. "We wanted to make the look elaborate and strong, yet keep a balance with each style."
With the variety of braids came the most unexpected yet most dynamic aspect of beauty at Pyer Moss which was brought to everyone by jewelry designer Johnny Nelson, who crafted gold hair cuffs with the faces of Lauryn Hill, Rosetta Tharpe, Erykah Badu, Lil Kim, Missy Elliott, Mary J. Blige, and Beyoncé in a matter of weeks.
"Kerby [Jean-Raymond] told me his ideas and it was gnarly because I had been imagining a way to incorporate my work into hair following the Met Gala," he tells TZR. "The beads are a symbol of a continuation of our legacy, we were immortalizing icons."
Grunge Slick Back
Seen at: Koché
Weeks-old hair was the inspiration behind the "dirty-rut glam" of Koché. Created by celebrity haistylist Jawara, the stylist opted out of braids, instead embracing models own texture for a rugged slick-back. "No braids this show, we're embracing texture this year," he tells us. "We wanted the hair to look like they've had their hair done for two weeks now and it's a little oily."
Diffused Afro
Seen at: Brother Vellies
Celebrity hairstylist and natural hair expert Nai'Vasha Johnson teamed up with Mizani to bring afros to the forefront. The perfectly-shaped fros were seen on models of all textures.
Spruced-Up Puffs
Seen at: Marc Jacobs
As if those smashing eyeshadow looks created by Pat McGrath weren't enough, the natural styles that hit the runway were equally as mesmerizing. These impeccably-constructed puffs with sequined adornments, created by Guido Palau, Global Creative Director for Redken, were nothing short of impressive.
Undefined Wash-And-Go
Seen at: Aliétte
Ultra-defined curls are so 2018, so Gary Baker, creative director of Unite Hair, hydrated the hair without adding too many sculpting products after washing. Frizz has never been so glamorous.
Tinted Texture
Seen at: Schiaparelli
Oribe Global Ambassador James Specis sparingly applied vibrant hair color into cropped fros that complimented the rainbow of accessories.