Chrissy Teigen Packed No Shortage Of Boho Dresses By This Brand For Her Trip To Thailand
Jemal Countess/Getty Images Entertainment/Getty Images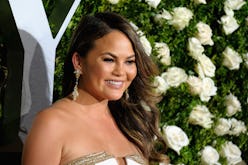 Chrissy Teigen is wrapping up her summer with an extended holiday in Thailand, as you know from the slew of vacation photos she's been posting of late. The model has been spamming social media with pictures of her family swimming in the pool, hitting up night markets, raiding the toy stores of Bangkok, and more. There's been no shortage of evidence that Chrissy Teigen packed her bag exclusively with boho dresses by Caravana, either.
As the daughter of a Thailand native, it's so clear to see that Teigen is in her natural element amidst the tropical scenery (and humidity) of this Southeast Asian country. In one of her recent photos, she looked at home while wearing a traditional dress that matched her mother's.
This has pretty much been the only time the mom of two has changed out of that stack of Caravana dresses she's been living in throughout the trip. The first one she debuted was a breezy burgundy jumpsuit that she adored so much she featured it on her Instagram three times.
Soon after, she wore a gold dress with an asymmetric hem by the very same brand. Now, a week later, she's modeling a similar one in brown via John Legend's Instagram.
The singer has been brushing up on his skills as an "Instagram husband" after Teigen called him out for not "paying attention to angles or lighting or general photo ambience," she wrote, "but it's okay."
That explains why his latest shot of her is near professional quality. His model wife standing there under the perfect lighting with a hand on the hip and a popped knee. It's safe to say Legend is now earning his keep.
Yet again, she's wearing one of Caravana's free-flowing boho dresses. These maxis were made for traveling, it seems. Even the brand's bio says its flowy silhouettes are designed for "modern globetrotters who appreciate luxury" and that describes Teigen to a T.
The model's favorite travel pieces from the brand, ahead.
Shop The Look