Chrissy Teigen Made A Convincing Case For This Unexpected Summer Shoe
Mike Coppola/Getty Images Entertainment/Getty Images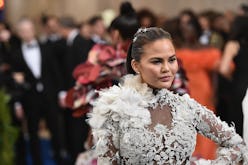 Summer 2019 is quickly turning into the season of unexpected shoes. Sure, sandals, flip flops, and flats are still the most favored of them all (because breathability is key when the temperatures reach the high 70's, right?), but celebs have been slipping into footwear picks that aren't, well, all that typical for summertime. Irina Shayk has been sporting a particular pair of chunky Doc Martens on repeat, while Chrissy Teigen is clearly all for slouchy boots right now. Yep, the clap-back queen was just seen wearing a shoe most people don't normally wearing this time of year — but as per usual, she made it work.
Teigen, John Legend and their two kids, Luna and Miles, have been spending the past few weeks jet-setting around the world. Italy has been the family's most-visited destination thus far — a place the holds special meaning for the couple, as that's where the two officially tied the knot back in 2013. But it seems the model (and her family) are finally back in L.A., and she's returned to her Cali-cool style roots once again.
Straight off the plane and to the hairstylist it was for Teigen, who stopped by a Beverly Hills salon for a mid-summer trim on July 16, wearing what's going to be your new favorite outfit formula — for summer and fall that is. The 33-year-old donned a mid-length floral-print dress that had boho-chic vibes written all over it.
The frock in question hails from Chloé and features a gorgeous lace trim. Though Teigen could have easily paired it with sandals or espadrilles, she decided to go with a more surprising footwear pick: tall, slouchy boots by Saint Laurent — a style you probably loved in the fall but don't reach for quite as much right now.
Well, leave it to Teigen to convince you to dig your boots out of storage and pair them with your favorite summer dress. A wide-brim hat from Sensi Studio, brown-tinted sunglasses, and a light-brown Celine bag added doses of summer flair while sticking with the all-over neutral color theme.
The season of changing leaves and apple picking is still a couple of months away, but it's never too soon to start prepping your wardrobe. Ahead, shop the Teigen-approved combo you'll love wearing during the summer and fall.
Shop The Look