Chris Pratt & Katherine Schwarzenegger's Wedding Was Reportedly Quite The Intimate Affair
Rich Polk/Getty Images Entertainment/Getty Images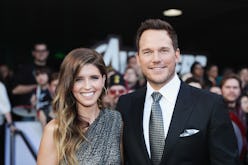 Well, it's official: After a whirlwind six-month engagement, Chris Pratt and Katherine Schwarzenegger's wedding took place on Sat. June 8, 2019. And, considering the pair's whirlwind love story, it's no surprise that it was quite the romantic affair.
The nuptials were reportedly small in comparison to most A-list weddings, taking place at San Ysidro Ranch in Montecito, Calif. According to sources from PEOPLE magazine, guests in attendance included Pratt's son Jack (whom he shares with ex-wife Anna Faris) and Schwarzenegger's famous family, which included her siblings Patrick, Christopher, and Christina as well as her parents Maria Shriver and Arnold Schwarzenegger. The wedding marks Pratt's second and Schwarzenegger's first.
The newlyweds first went public in June 2018 and quickly got engaged in January 2019. In his engagement announcement on Instagram, Pratt included a picture of himself and his now bride flashing her stunning oval-shaped diamond with the caption: "Sweet Katherine, so happy you said yes! I'm thrilled to be marrying you. Proud to live boldly in faith with you. Here we go!" Just a few months later, in April 2019, Schwarzenegger celebrated her bridal shower, which was thrown by her mother (Shriver).
While somewhat mum about the wedding details, Pratt spoke of the couple's wedding prep to an ET reporter at the Avengers: Endgame premiere in April. In addition to saying he was "up to his neck" and "in it," Pratt assured the reporter it was a joyful period, indeed. "[It's a] good time to be here for the Avengers premiere and also good things happening for me in life," he said. "I just count my blessings every day."
As for the main event that took place this weekend, here are some details so far. Bridesmaids donned blush-colored, floor-length halter gowns. While official images and details of Schwarzenegger's dress have yet to be revealed, she appeared to don a fitted sleeveless gown with a voluminous mesh train (detachable, perhaps?) and dainty lace-trimmed veil.
If one were to venture a guess based on Schwarzenegger's style, her gown was most likely the perfect mix of modern and classic. The 29-year-old has an affinity for elevating traditional pieces, whether that include a color-blocked raincoat or PVC jacket. Either way, the political heiress has proven herself fearless when it comes to fashion, so it's likely her wedding gown will be yet another shining example of that aesthetic.
Details of the actual tented ceremony and reception have been scarce, but according to PEOPLE, guests dined on fresh, locally sourced vegetables, as the reception menu focused on light summer foods. Dessert reportedly stuck to the same motif, with vibrant seasonal fruits like raspberries, blueberries, and red currant served.
Stay tuned for more details to come of the couples' big day!