*So* Many Fashion-Girl Beauty Staples Are Included In Chillhouse's Cyber Monday Sale
NOTO Botanics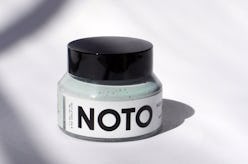 Depending on where you live — and who you follow on Instagram — the modern New York City spa Chillhouse can feel like a well-kept secret or an everyday luxury. Still, regardless of whether you frequent it for weekly mani/pedi updates or not, Chillhouse's Cyber Monday 2019 sale should be on your calendar. Circled. In marker. Because seriously, it's that good.
Before you ask: Yes, contrary to the Cyber Monday sale's name, it runs until the evening of Dec. 3; so you still have time to take advantage of its discounts, which span across Chillhouse's exceptionally curated online beauty and self-care store. Simply fill up your digital shopping cart and pop in the promo code CYBER30 before you check out to save 30 percent on the brand's online catalog.
Which, by the way, largely includes under-the-radar essentials that decorate the modern fashion girl's vanity, like NOTO Botanics skin care, côte nail polish, and Skin Gym's IG-worthy Goldie Face Roller (which you may recognize from Karlie Kloss' everyday skincare routine). You can even pick up a Boy Smells candle on sale — such as its fruity and cult-favorite LES candle, marked down to just $22.40 from its original $32 price tag.
Lacqueristas, take note: In the spirit of Chillhouse's exceptional manicures, you may be tempted to strictly shop its deals on nail polish during the Cyber Monday sale. The spa stocks plenty of other fan-favorite nail brands besides côte, including Floss Gloss, NCLA, and CND, and makes it a point to carry offbeat colors that'll thrill polish collectors. Just take a look at Floss Gloss' 95% Angel Nail Lacquer; discounted from $9 to $6.30, the soft blue is the puzzle piece you didn't know your collection was missing.
And those are just two of the deals you can grab from Chillhouse on Dec. 3. Below, nine products featured in the brand's Cyber Monday sale that you won't believe are still in stock.