Charlotte Tilbury's Cult-Favorite Pillow Talk Collection Just Got Another New Addition
Charlotte Tilbury/Instagram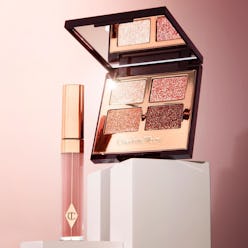 You know when there's something so good that you just can't get enough, like a certain trending color in your wardrobe or that ultra-luxurious face cream that makes your skin feel super soft? As far as makeup goes, it doesn't get more obsession-worthy than Charlotte Tilbury's Pillow Talk products — you probably know countless people who adore the crowd-favorite lip color-turned full-on collection from the British beauty brand. And just in case there weren't enough reasons to love the look, Charlotte Tilbury's Palette of Pops in Pillow Talk presents a very sparkly new addition that might be the most mesmerizing yet.
At this point, you probably don't even need a run down on what makes Pillow Talk so great. The pinky nude color beloved by big-time celebrities and small town beauty buffs alike has officially surpassed cult status and become a total crowd favorite, no longer requiring an introduction or convincing pitch. So news that Charlotte Tilbury has added two new limited-edition products to the Pillow Talk lineup is enough to incite major excitement in the beauty world. Whether you're already a fan of the line or looking to get in on the craze (plus the season's current trends), these two are too good to pass up on.
Charlotte Tilbury turned up the sparkle and shine on Pillow Talk when it released the Pillow Talk Diamonds lipstick a few months back — and apparently the brand wasn't quite ready to stop, because on Sept. 26 it dropped two more high-shine additions to the line. First up, the limited-edition Pillow Talk Palette of Pops, $53, follows suit with an amped-up uber sparkly eyeshadow quad that'll effortlessly create dazzling, hypnotizing eyes.
Each of the four shadows is infused with pearl pigments, glossy ester, and mica for tons of multidimensional shimmer and luminous shine for an almost diamond-like effect. You'll recognize the same pink, peach, bronze, and nude hues as the Pillow Talk Luxury Palette, just with a generous dose of sparkle that takes the palette into super-glowy territory. Use all four shimmer shades together to sculpt, smoke, and define your eyes — you'll be right on trend thanks to no shortage of shine.
The collection's second new drop is the Pillow Talk Lip Lustre, $22, which will lacquer lips in a pillowy, silky, high-shine coat of the beloved pink-nude hue. The light-reflecting, softening formula (infused with conditioning lotus flower) creates the appearance of a bigger, fuller pout, without a sticky, gluey texture. Fans of the Matte Revolution iteration of Pillow Talk may just be convinced to take a chance on glosses that to this gorgeous drop.
Don't forget these limited-edition launches won't be around for too long, so grab them sooner rather than later. Get your hands on the luxe sparklers from Charlotte Tilbury's Pillow Talk line, below.