Charlotte Tilbury Just Expanded The Pillow Talk Line With Two New Lipstick Shades
Charlotte Tilbury/Instagram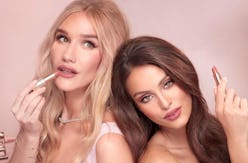 In 2019, one lip product rose above the rest and claimed the rank of most-sold lipstick in America. That lipstick was Charlotte Tilbury's Pillow Talk, an almost-universally loved nude-rose shade that's sparked no shortage of spin-off products inspired by the color from the crowd-fave makeup line. But the lipstick itself hadn't been expanded upon — until now, that is. Finally, Charlotte Tilbury's new Matte Revolution lipstick in Pillow Talk Medium is officially up for grabs (alongside an even deeper sultry new addition), and they're sure to create even more Pillow Talk converts.
According American market research group NDP Group, from January to November of last year Pillow Talk was the number-one selling lipstick in the U.S., along with its Lip Cheat lip liner counterpart. Together the duo effortlessly creates a contoured, fuller-looking pout that looks nearly natural, so it's no wonder that celebs and beauty buffs alike can't get enough and a tube is sold every two minutes. But even the most widely loved lipstick in the country can't possibly please everyone, which is what makes Charlotte Tilbury's latest launch one of the Pillow Talk line's smartest additions yet.
Hot on the heels of the Instant Eye Palette in Pillow Talk, which dropped on Jan. 9 (after being used on big stars at the Golden Globes), two new lipstick and lip liner shades joined the fan-fave range from Charlotte Tilbury to give deeper alternatives to the bestselling nude pink hue.
Pillow Talk Medium, $34 and available now on Charlotte Tilbury's site, deepens the original hue to a warm berry pink that's great for medium skin tones (not to mention ideal for wintertime wear). The new shade has been formulated in the brand's Matte Revolution finish, which features intense color payoff and a soft, creamy texture that's non-drying and lip-defining. If you're grabbing the new hue, get its coordinating Lip Cheat in Pillow Talk Medium, $22, as well for a fuller pout.
Tilbury took it a step further with an even richer shade: Pillow Talk Intense, introduced in the satin K.I.S.S.I.N.G finish. The deeper take, also $34, is a dark berry-rose that's almost reminiscent of the warm burnished hues of the '90s and a natural nude-rose alternative for deeper complexions. Naturally, it has its own coordinating Lip Cheat shade too, in a deep tawny brown that can be used to contour and fill in lips before the satiny lipstick adds a luminous glow.
Whether you're a Pillow Talk fan through-and-through or you've been waiting for a deeper alternative to win you over, you'll want to take a look at Tilbury's newest lipstick arrivals below.