How To Recreate The Fresh-Faced Beauty Looks At Chanel's Spring/Summer 2020 Show
Pascal Le Segretain/Getty Images Entertainment/Getty Images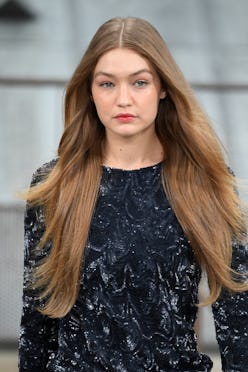 Over the past few weeks, there has been no shortage of inspiration coming out of the fantastical biannual marathon that is Fashion Month. In case you haven't been keeping close tabs, there's a whole lot more to see than just what kinds of clothing trends you can expect to spot come spring — it's also a font of fresh beauty perspective to inspire you right here and now. And if the ultra-glittery looks that dominated many shows this month aren't for you, the Chanel Spring/Summer 2020 beauty looks are definite proof that a natural look can be just as impactful. Ending Fashion Month on a strong, yet subtle note? Now that's something just about everyone can get behind.
"Of course all the textures have to be, even if it's subtle, they have to be strong," Lucia Pica told her team (and anyone watching along on her Instagram Stories) in preparation for the Spring/Summer 2020 presentation this morning in Paris. "We have to pay a lot of attention to the skin being super polished and amazing, but natural."
With that, plus a quick rundown of the rest of the beauty look, Chanel's Global Creative Makeup and Color Designer sent the artists off to get to work on creating an ultra fresh face for the models about to walk the runway. And spoiler alert: It's so easy you're about to want to recreate it for yourself, too.
Pica allowed her Instagram followers a backstage pass as she demonstrated the beauty look on model Vittoria Ceretti, showing step by step how to create a sunshine-kissed, subtly glossy face — using all Chanel beauty products, of course.
According to the makeup guru, you should always begin with L'Eau de Teint, $65, Chanel's gel texture skin tint that features micro-droplets of pigment for a natural finish. Pica dosed the product onto the back of her hand, worked it with its accompanying brush to blend the pigment with the fluid, then applied onto the face in gentle strokes from the center outward to melt it into the skin. Then the concealing shade from La Palette Essentielle, $60, was used anywhere extra coverage was needed — beneath the eyes, around the nose, on any blemishes.
Pica treated Ceretti's brows with Crayon Sourcils, $29, and Le Gel Sourcils, $32, for a groomed but subtly boyish effect, first making upward strokes with the pencil to fill in sparser areas for a fuller look then following with the clear gel for lasting hold. A soon-to-drop bronzing stick was dusted over the tops of cheeks and bridge of models' noses to create naturally sun-kissed skin (you'll want to get your hands on it as soon as it launches, but for now your usual bronzer will do just fine). Same goes for the eyes, on which Pica applied a not-yet-available Ombre Première Laque in Quartz Rose to create a natural, wide-awake glow.
PIXELFORMULA/SIPA/Shutterstock
Models sported a just-bitten look on lips by way of Rouge Allure Liquid Powder in Radical, $30, applied at the center of the lips and blended outward for a blurred, barely-there effect. Rouge Coco Gloss in Crystal Clear, a shimmery, iridescent lacquer, was swiped on top for a sweet, feminine look. Then, Pica went over the eyelids with Chanel's Baume Essentiel in Transparent, $45, to continue the glossy finish, before slicking on a couple coats of Le Volume Révolution De Chanel mascara, $35, to finish. Wanna really play up a natural look? Follow in Pica's footsteps and use your eyebrow pencil to dot some cheeky little freckles across your nose and above your cheekbones.
Ready to try the fresh look for yourself? It's so simple you've likely got all you need already, but if you're in need of an upgrade you can shop the exact Chanel products used, below.