Chanel's Shearling Boots Are Finally Available & They're Just As Good As You Remember
Pascal Le Segretain/Getty Images Entertainment/Getty Images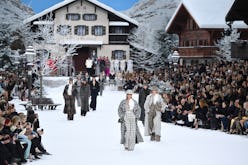 Earlier this year the fashion industry watched as Karl Lagerfeld's final Chanel collection walked down the runway. It was nothing less than whimsical, what with the makeshift winter wonderland and storybook set. But as the (faux) fresh powder began to settle on the runway, all eyes were on Chanel's Fall/Winter 2019 snow boots. Though at times barely visible underneath the floor-sweeping hemlines, a few swift glances undoubtedly left the style-set wanting more. And the good news is, they're (finally) available for purchase.
The release of Chanel's new snow boots could not have come at a better time, considering it's becoming harder and harder to ignore the brisk chill lingering in the air. Not to mention, if you've been yearning to get your hands on a piece that has elements of the house's heritage details, between the classic color ways and signature textures, both boots have a lot to offer.
With two very different styles to choose from, one of the fine characteristics that both items have in common —in addition to the quality craftsmanship — is the brand's iconic two-tone design, by which they're instantly recognized. Cara Delevingne opened the somber yet serene show in a well-tailored outfit with the lace-up wedge version peeking out from underneath the floor-length wide-leg trousers. Viewers got a better look at its sleek and sophisticated silhouette on Penelope Cruz and Kaia Gerber — they both wore all-white ensembles to close out the show in Lagerfeld's memoriam. Somewhere in between, another pair of snow boots made its debut, this time, dressed up in shearling and in a design reminiscent to your classic galoshes.
The Lace-Ups are made in a sleek and sporty silhouette with a rubber wedged heel, which makes up for what the steep height lacks in practicality. Described by the brand on their site, as "a feminine take on mountain footwear", they're cinched with elasticated trims for flexibility, while the discreet monogrammed designer plaque sits prominently at the ankle. These winter-friendly boots come in a few different color ways, one of which stays true to the brand's black and beige design. The more playful iteration strays only slightly, featuring subtle pops of color mixed in with the same traditional shades. However it wouldn't be Chanel if there wasn't tweed involved, which can be found in the all-white pair that closed the show.
Pascal Le Segretain/Getty Images Entertainment/Getty Images
Pascal Le Segretain/Getty Images Entertainment/Getty Images
Now, if you're looking for cozier footwear to brave the elements, then the High Boots might be more your speed. These knee-high boots are designed in shearling and durable leather that's washed in a cracked finish for a textured effect — meaning it wears nicely over time and will most likely look even better (if possible) at the end of the season. Also featuring the iconic two-tone palette, they're detailed with a drawstring top that allows you to find your perfect fit and tuck-in your ski-pants or trousers with little to no fuss.
The common thread between these two winter staples? No matter what style you pick, as demonstrated on the runway, they both go with just about anything and everything. Scroll ahead to shop the pair that's best for you.