Those Beautiful Hair Accessories From Chanel's Fall/Winter 2019 Show Are Finally Shoppable
Chanel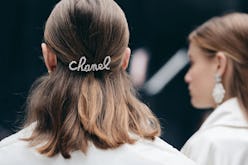 Amongst the flurry surrounding Karl Lagerfeld's last show for Chanel — both metaphorical and literal, due to plenty of faux snow — fashion writers keyed into one important detail: the hair. The Cut's Emilia Petrarca deftly pointed out that the Chanel's Fall/Winter 2019 hair accessories, woven into the models' pulled-back tresses, echoed Lagerfeld's signature ponytail. Some wore oversized black silk ribbons, others were adorned by twinkling barrettes — and all had that wow factor that leaves shoppers patiently waiting for the collection to arrive.
Lucky for you, that day is here. Hair accessories seen on the Fall/Winter 2019 runway are now available — such as the delicate hair ribbons that dotted so many models, or the Chanel pearl hair clip that quickly stole the hearts of fashionistas everywhere the moment it appeared — and they're just one call to a Chanel store away. Which is how you'll have to go about purchasing them, by the way; according to Chanel's website, neither piece is available for purchase online.
However, a bit of extra work will undoubtedly be worth it for fans, as the pieces mark a true metamorphic moment for the house. "Sparkly hair slides, ribbons, brooches and camellias adorned the simple, clean healthy hair," wrote Sam McKnight, the show's hairstylist, on Instagram following the show. "A celebration of Karl and all things Chanel, in a magnificent mountain village, complete with snow. Hair half up half down, natural cool girl textures tied with ribbons. Huge love and respect goes to the wonderful team at Chanel for a very personal and emotional show today."
Then there's the Instagram factor. No one needs to tell you that pearl-encrusted barrettes may very well go down as the defining hair accessory of 2019 — a year saturated with statement hair clips vying for such an award. Combine that with the fact that the show will always be remembered when reflecting upon Lagerfeld's lengthy legacy, and the Chanel clip's $800 suggested retail price is well worth it.
To preview the Chanel Fall/Winter 2019 hair accessories available for sale, simply keep on scrolling.