Chanel Beauty Just Released The Effortless (& Weightless) Foundation Beauty Fans Dream About
Chanel Beauty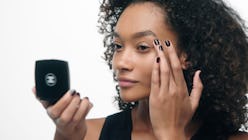 Regardless of your unique opinions on eyeshadow, lipstick, and, well, everything else, all beauty aficionados probably share the same ideal when it comes to foundation: a good one is completely unrecognizable. As in, it leaves no trace behind — melting into your complexion, indistinguishable from your own skin. Unsurprisingly, this seems to be the goal of Chanel Beauty's Ultra Le Teint Velvet Blurring Smooth-Effect Foundation, the house's newest complexion product. Released this Sept., the Ultra Le Teint Velvet foundation aims to be effortless, weightless, and lighter than air. Oh, and it's also long wearing, too; because this is Chanel Beauty, after all.
As you may've guessed, the Ultra Le Teint Velvet foundation boasts a velvety, matte finish, mimicking the natural look of skin. The $50 formula offers sheer-to-medium coverage in 13 shades; a video featuring model Cheyenne Maya Carty included in the product description illustrates you only need a few drops to achieve an even, blended base.
Better yet, you can use your fingertips to apply and blend out the foundation, too — this newest launch is all about ease of use. The foundation's packaging itself was even created to be portable, using a slim, rectangular bottle with a matte black cap.
Planning on tossing Ultra Le Teint Velvet into your travel beauty bag? The foundation is formulated with SPF 15 sunscreen, so it'll give your skin an extra protective boost during your next trip. It also features what Chanel Beauty calls its Light Control Complex and Perfect Skin Affinity Complex, previously used in the Perfection Lumière Velvet Smooth-Effect foundation to help the product stay luminous and in one place all day long.
Sept. 2019 has been a busy month for the house's beauty line, as well: Chanel Beauty has launched multiple new products, such as the Le Lift La Crème Main hand cream and the Gabrielle Chanel Essence fragrance. And even though summer may now be a thing of the past — taking the sweat-provoking humidity with it — it's never a bad idea to find a foundation that feels like you're wearing nothing at all. Below, Chanel Beauty's new Ultra Le Teint Velvet Blurring Smooth-Effect Foundation, available on Chanel.com.