Celine Dion Just Won Haute Couture Week
Dimitrios Kambouris/Getty Images Entertainment/Getty Images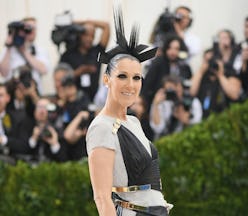 The highlight of couture week was perhaps not who you would have predicted it to be. This year's overseas extravaganza inspired 51-year-old Celine Dion to host her very own couture parade. Nine outfits that led to her unofficial best dressed title, ahead.
Couture Week is perhaps the most fun fashion showcase of them all. Not only are the runways adorned with over-the-top designs, but the street style has an artsy flair, too. Nobody did it better this time than the iconic Canadian singer Celine Dion.
The voice behind Titanic's "My Heart Will Go On" has long been known for her incredible range but has only just recently been recognized for her impeccable taste in fashion, too. It all started in 2016, when, mere months after both her husband and brother died of cancer, she hired stylist extraordinaire Law Roach (the man behind Zendaya and Ariana Grande's looks), who during Couture Week put her in a Vetements Titanic hoodie that made everyone swoon.
Now, with two Met Gala appearances under her belt, the Caesars Palace retiree is pretty much a full-blown style icon at this point, sporting everything from a pants-less bodysuit to over-the-top bubble dresses and beyond.
Dion is one fearless dresser and these Couture Week looks are proof.