Camila Coelho's Lipstick Collection Looks Good On Everyone — Seriously
Lancôme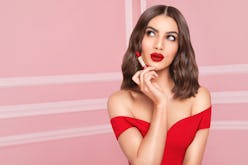 To any of Camila Coelho's followers (nearly 11 million of them on Instagram and YouTube combines, for the record), a makeup collaboration with a major brand would make perfect sense. The Brazilian-born makeup artist posts reviews and tutorials that average hundreds and thousands of views, and her entire Instagram feed is sprinkled with selfies so gorgeous, they should be turned into commissioned portraits. Oh, and not to mention, she's a professional makeup artist. So in a way, the Camila Coelho's lipstick collaboration with Lancôme was destined to come into fruition... because technically, she's been a frontrunner for decades. And of course, the collection has colors that work for everyone — a reflection of her massive following.
"When I was six years old, I took a passport photo wearing a dark red matte lipstick," Coelho tells me at a press preview for the line, laughing at the memory. "I think I got my love of beauty from my grandmother. She always had lipstick on, too, and her hair was always blow dried. My mom wore Lancôme lipsticks, perfume, and skin care. I just grew up loving it."
At the brainstorming table, she brought that same passion as she worked closely with Lancôme's Global Makeup Creative Director, Lisa Eldridge, and while getting her hands dirty in the cosmetic laboratory. "I wished I could create, like, 30!" she says. But ultimately, she settled on 10 shades that were reflective of colors that she chooses on a daily basis including two reds — a matte and a cream finish — a tropical pink, a coral, and a request from her Lancôme-loving mom: a nude. "She was like, 'you need to do the perfect nude!' So when I got to the lab, I knew that I wanted to have different undertones... especially with my experience from being a makeup artist."
Coelho's partnership isn't just a childhood dream, though: it's reflective of Lancôme's clear dedication to diversity. The brand's past brand ambassadresses and spokeswomen include Lupita Nyong'o, Penelope Cruz, and Michelle Phan, among others. As a beauty lover and influencer, Coelho receives products from brands aside from Lancôme, and they aren't always as inclusive. It's a struggle that she dealt with herself. "There's such a mix of people in Brazil, so you'd think the first thing companies would think about is creating products for every skin color. A lot of brands wouldn't have yellow undertones, and I remember having a hard time finding skin products while growing up." It's something that her followers can relate to as well. "They will complain," she notes. "Sometimes I'll talk about a product, and a follower will say 'I wish they had a product for me.'" Which is why Coelho isn't afraid to speak up for them — and now, she's creating products for them, too.
That's not to say that the industry is all bad. As someone who receives her fair share of mailers, the influencer sees a spike in shade ranges and products for everyone. "Today, the market does offer much more variety with foundation and concealers. They're learning how to create more colors," she says. "The market is learning, and the brands are learning." And it looks like Coelho is head of the class.