BYREDO's Cult-Favorite Rose Of No Man's Land Scent Just Expanded Into Body Products
Byredo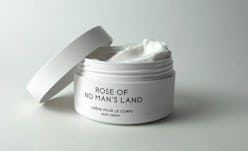 Anyone who's smelled the original perfume could probably tell you why BYREDO's Rose of No Man's Land deserved to be so much more than just a fragrance. Perennially a cult favorite, the popular perfume is a tribute to the nurses who served on the front lines of WWI, who were called a "Rose of No Man's Land" by soldiers — and the scent that draws upon that muse is as rich and beautiful as you'd expect. And starting March 7, you'll be able to buy the alluring Rose of No Man's Land scent as a collection of body care products, including body wash, hair perfume, roll-on perfume oil, and more.
There are six new Rose of No Man's Land body products in total, offering up an expansive way to incorporate the scent into your beauty routine. If you aren't interested in perfumes, try out the $50 Rose of No Man's Land Body Wash, $65 Body Lotion, or the $94 Body Cream. Pick up the $40 Hand Cream or $78 Roll-On Perfume if you already own the perfume and want to accent it with on-the-go options, or are interested in trying it out without spending too much money. Last (but not least) is the $70 Rose of No Man's Land Hair Perfume; a non-drying way to add a touch of scent to your tresses that probably everyone can get on board with.
Have you never had the chance to smell Rose of No Man's Land for yourself? It's one of BYREDO's most romantic scents. As you probably guessed, one of the main notes in the perfume is rose — Turkish roses, to be exact. BYREDO complements the Turkish rose absolute and petal scents with pink pepper, raspberry blossoms, papyrus, and white amber. Mixed together, the perfume is timeless and subtly feminine.
However, BYREDO may say it best on the pages for the Rose of No Man's Land products: the brand calls the fragrance "a tribute to selflessness and compassion." Curious about what that smells like? Keep scrolling down; while the new products are available in select BYREDO retailers, the entire Rose of No Man's Land collection is ahead.