These Insta-Famous Shoes Were Just Added To Net-A-Porter's Winter Sale
By Far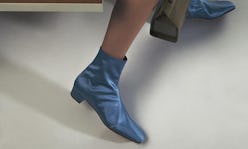 Social media has a way of adding even more hype to the trendiest brands, and rightfully so. With the help of Instagram, followers can stay up to date with the latest collections, styling ideas, and celebrity sightings. Many Insta-famous labels can be quite costly, but thanks to impressive holiday markdowns, By Far shoes are on sale on Net-A-Porter right now.
You've probably seen By Far products on the pages of some of your favorite influencers, as well as incorporated into celebrity street-style looks. The brand is famous for contemporary shoes and bags with a touch of '90s grunge. Their Instagram feed is chock-full of square-toe silhouettes, retro-inspired crocodile print, and ultra-trendy micro bags.
Models like Gigi and Bella Hadid have been photographed sporting the structured mini-totes and shoulder bags, along with actors like Priyanka Chopra, and Insta-famous fashion personalities like Lucy Williams and Jeanne Damas. The brand even hosted an exclusive launch party for their new collection at the Chateau Marmont in West Hollywood earlier this month, hosted by comedian, Maya Rudolph, and the sisters of the pop-folk band, Haim.
The disappointing truth about many trendy designer pieces? The often unattainable price tags that come along with them. But for those looking to shop By Far on a budget this holiday season, there's some seriously good news. Net-A-Porter's holiday sale has a wide range of By Far shoes for up to 60 percent off. This means you can make a luxurious pair yours today for under $200.
With prices this good, these shoes are bound to sell out in the blink of an eye. To help you avoid wasting precious shopping time, The Zoe Report has compiled a list of the best By Far shoes on sale at Net-a-Porter today.
Shop The Sale