Bella Hadid's Favorite Denim Brand Is Having A Huge Holiday Sale (With Free 2-Day Shipping)
Broadimage/Shutterstock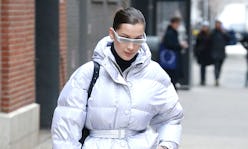 Regardless of the season, the occasion, or your personal taste, denim is a definite must-have for just about everyone. Maybe you stick to the basics that you've counted on for years, or perhaps you take notes from your favorite style icons when venturing into new territory with boundary-pushing trends. If you're shopping for fashion-forward denim on a budget this holiday season, you're in luck, because Bella Hadid's favorite jeans are currently experiencing a major price drop.
3x1, a Hadid-approved denim label, has officially kicked off its holiday sale. The New York City-based luxury denim brand not only provides access to new and unique trends, it also works to completely change the industry. According to its website, 3x1 has set out to "reinvent the way people perceive and interact with denim and its design and production" by providing an inside look into how your jeans are made.
Swing by 3x1's experiential retail concept in SoHo where you'll not only be able to shop the products, but you'll also get to see the entire manufacturing process. 3x1 shares online that "for the first time ever, customers can watch their jeans being cut, sewn, and finished behind three floor to ceiling glass walls." If you can't make it to NYC just yet, the good news is you can still shop the brand and save money while doing so, thanks to the latest sale.
Head over to 3x1's website ASAP to shop a wide selection of styles for up to 30 percent off the original prices. Plus, if you place your order before 3 p.m. ET on Dec. 19, you'll get free two-day shipping. Already have a closet filled to the brim with jeans? The sale selection has plenty of other options to explore, like sleek turtlenecks, oversized jackets, button-down blouses, and loose-fitting chinos.
Hadid has made a name for herself in the world of high fashion, as well as for her distinct street-style looks. Whether she's on her way to an A-list event, or just out and about with friends, the 22-year-old model knows exactly how to style denim in an unexpected way.
Take a look at 3x1's Instagram page and you'll immediately understand why Hadid loves it. With its vintage-inspired cuts like low-slung wide legs, and retro additions like subtle chains and distressed edges, the brand pretty much screams "Hadid."
Whether you're ready to take your love of denim to new heights and try something completely new, or keep it casual with a classic pair, you're going to want to start shopping the 3x1 sale before it's too late. Ahead, find The Zoe Report's favorite items on sale at 3x1 to help create your own version of effortless, Hadid-like style.
Shop The Look