2019's Cow Print Trend Is Quickly Gaining Momentum — Here's Where To Shop It Now
Dvora/Shutterstock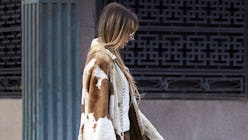 Whether you realize it now or not, 2019's cow print trend is coming for you from every angle. The bold animal print is trickling into stores as the days pass, strutting the runway at Burberry, and making a splash across Instagram feeds thanks to smaller — yet still impactful — indie fashion labels. And if the industry wasn't already in love with the fresh Western print, Meghan Markle and Kylie Jenner both pulled it out of their closets — sealing its place amongst trend royalty (please ignore the pun).
Although Meghan Markle's Gianvito Rossi Plexi heels are reportedly still sold out, you aren't a loss for cow print in 2019 — it's everywhere. You'll see it at classic designer labels like Victoria Beckham and Diane von Furstenberg, and at fashion girl favorites like STAUD and Susan Alexandra. It's even making its way from the underground up; all things cowboy and cow print have been embraced by Instagram's indie (and oftentimes avant-garde) fashion community.
But how did it all happen at once? How could Tory Burch's Pre-Fall 2019 unveil Georgia O'Keefe-inspired cow print, as Burberry sent an instantly-iconic cow print miniskirt down its runway, as indie labels tapped into the print? "Prints are conversation starters and we were looking for something fun and new to experiment with," Valfré's founder Ilse Valfré tells The Zoe Report over email. "That combined with really wanting to do a Dolly Parton/cowgirl-inspired line brought the cow print front and center in our newest collection."
Valfré's cow print-covered Spring 2019 collection is titled What Would Dolly Do?, and dropped March 19. While perhaps smaller than Burberry and Tory Burch, the LA-based fashion and lifestyle brand's influence isn't insignificant: Valfré has close to 800,000 followers on Instagram.
"The cow print doesn't take itself too seriously, it's fresh when talking your typical animal prints that have been hitting the runways season after season, and goes with everything (who could say no to black and white!)," Valfré adds. "The best thing about cow print though is that it's bold without being overdone, meaning, for those who want to dabble in something new but don't want to go full Wild West/cowgirl, it's a nice way to ease into a new trend."
And the trend all could be chalked up to Dolly — or, at the very least, the infamous Jolene. Anine Bing's $599 Jolene cowboy boots made waves during last year's cowboy boot trend, and inspired sartorial obsession across the 'net. Hopefully you got them last year, too; only two sizes are left on Anine Bing's website.
If not, you still have plenty of options. Ahead, some of the most swoon-worthy cow print pieces from around the fashion community — both classic and current, iconic and indie.
Shop The Cow Print Trend