How Briogeo's Latest Launch Brings Hydration Back To Your Hair
Courtesy of Briogeo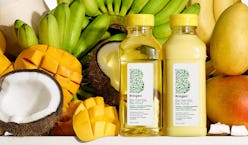 At first glance, you may think that the Briogeo Banana + Coconut Nourishing Superfood Shampoo and Conditioner set was a trendy new juice and smoothie duo. The shape of the bottles, the tropical colors — it's all there. Looking at the ingredients list would only make your case stronger, as well: They're formulated with fruit favorites, like bananas, coconuts, acai, and mango juice.
However, it's even better that these products belong in your shower instead of your fridge. As you may know, Briogeo are fan favorites in the haircare world; the brand creates products formulated for specific hair goals, such as its Scalp Revival Charcoal + Coconut Oil Micro-Exfoliating Shampoo or the Don't Despair, Repair! Deep Conditioning Mask. (Which currently has more than 1,000 perfect reviews at Sephora, by the way). Though it was only released June 12, it looks like Briogeo has another hit on its hands, too — the Be Gentle Be Kind Banana + Coconut Superfoods Shampoo and Conditioner became the best-selling product on Sephora.com on its first day.
And it's easy to see why the products have already garnered so much hype. The $28 shampoo was created to strike a sought-after happy medium: It aims to gently cleanse your hair while still maintaining its natural oils. Although the shampoo contains a dose of hydrating vitamins all on its own (thanks to the array of fruits it packs in), the conditioner will give your tresses an extra glossy boost; Sephora notes in the product description that the creamy conditioner — also retailing at $28 — has a smoothie-like texture.
On top of that, Briogeo prides itself on using natural, cruelty-free, and ethically-sourced haircare ingredients. This dedication has won it a spot on Sephora's Clean Beauty list, which is a lineup of the beauty retailer's products made without sodium lauryl sulfate, sodium laureth sulfate, parabens, and other potentially unwanted ingredients.
Excited to see what your favorite smoothie ingredients may be able to do for your hair? Grab the new Banana + Coconut Nourishing Superfood Shampoo and Conditioner on either Briogeo or Sephora's websites. Ahead, both new products from the summery set.