Bottega Veneta's New Purse Is The Anti-Mini Bag — But It's Just As Chic
Bottega Veneta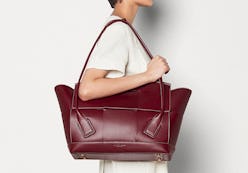 Whether the fashion world willingly admits it or not, it's a fact that not every trend suits every lifestyle. Included on the list of styles you've tried and aren't sure you can commit to: Mini purses. Not to knock the teeny, dainty bags (after all, they're so darn cute), but they do leave something to be desired when it comes to storage space. If something a bit roomier would better suit your daily needs, you're in luck, because Bottega Veneta's Arco Bag has officially arrived — and it's no less chic than those of-the-moment miniature bags.
On April 5, Bottega Veneta treated the style set to something exciting by releasing its brand new bag silhouette, the Arco. While the remainder of the Pre-Fall 2019 collection won't be available in stores until late May, you can now get your hands on the new handbag on the brand's site and in-store in Milan (if you happen to find yourself in the neighborhood) — and the timing couldn't be better, because it's safe to say the market could use a new tote to balance out all the mini bags currently out there.
Why the early launch? As it turns out, Bottega Veneta timed the Arco's introduction to celebrate the Salone del Mobile, Milan's design and furniture exhibition that takes place in April each year. It makes sense too, considering the new bag's namesake is inspired by the Arco della Pace, a well-known neoclassical arch situated in the heart of the Italian city, and the backdrop for the brand's Fall 2019 runway presentation.
The Arco bag's long, curved top-handle straps echo the design and shape of the Milanese arch, as does the arc-shaped top flap that folds over the tote's opening. Each bag is crafted from smooth, natural-finish French calfskin, which has been cut into wide panels and woven in Bottega Veneta's iconic fashion. The soft structure of the bag and the supple, un-lined leather lends a deconstructed, modern vibe to the roomy tote — so it's unlike other bags you may have bought in the past.
And Bottega Veneta's latest bag is actually available in four different sizes, so if the oversized Arco 56 style, $4,900, doesn't quite fit the bill, you can opt for a smaller iteration, the Arco 33, or go even bigger with the Arco 75, a weekender-sized tote made for the men's collection with alternating panels of calfskin and suede.
Keep scrolling to see and shop Bottega Veneta's new handbag launch — because there's nothing wrong with going against the grain every so often (especially if it means getting to carry all your must-haves with you).