These Birkenstocks Were Inspired By An Italian Hotel — & They're *Very* Chic
COURTESY OF BIRKENSTOCK X HOTEL IL PELLICANO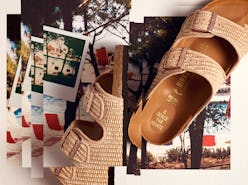 Shed your socks and book a pedicure — sandal season is about to be in full swing and there's no doubt you'll be eager to slip your feet into Birkenstock's Il Dolce Far Niente collection as soon as you set eyes on it. The brand has teamed up with the iconic Tuscan Hotel Il Pellicano to create a range of styles that you can live in all summer long, and basically it's the collaboration you didn't know you needed until now. (Celebrities who love Birkenstocks are going to be all over these.)
Launching May 15, the capsule collection includes seven summer-ready styles ranging from $110 to $520. Although you can't officially slide them on just yet, you can place a pre-order on MATCHESFASHION.com from May 15 to May 22 to be one of the first to scoop them up. And come June 15, they'll be for sale worldwide on 1774.com.
The capsule seamlessly blends the Birkenstock "Arizona" silhouette with the timelessly chic aesthetic of the elegant seaside, five-star hotel (just scroll through Hotel Il Pellicano's dreamy Instagram feed for reference). The result? A group of seriously stylish, elevated Birkenstock-like sandals that you can easily wear from a beachside lunch to evening cocktails.
Included in the range is the first ever natural raffia "Arizona" sandal — a style that's very likely to make it into your getaway bag time and time again this summer. Available in a light beige for $480 and a shade of brown for $520, both of the raffia sandals will team up nicely with just about anything in your wardrobe. Match up the neutral styles with everything from your favorite pair of denim Bermudas to silky slip dresses.
In addition to raffia, the collection incorporates other materials like satin, leather, and suede, which give the classic shape a luxurious spin. A vibrant red satin sandal with pink piping and its all-black counterpart (both $460) are arguably the most sophisticated of the bunch, and will provide for a stylish way to ground breezy, long floral dresses and skirts.
Meanwhile, you can add a pop of color to summery all-white looks with the lemon-hued, suede style for $430, or embrace a nautical vibe with the $470 navy leather sandals with bright white piping detail. Rounding out the collection is a pair of $110 ocean-blue rubber sandals that'll freshen up your poolside attire.
You don't have to jump on a plane to bring the Italian coastal feel into your wardrobe this summer — just continue on to pick out a pair (or two, or three) from this new capsule collection.